Reboot Eden: Celebrating Ten Years of Puppetry in Barrydale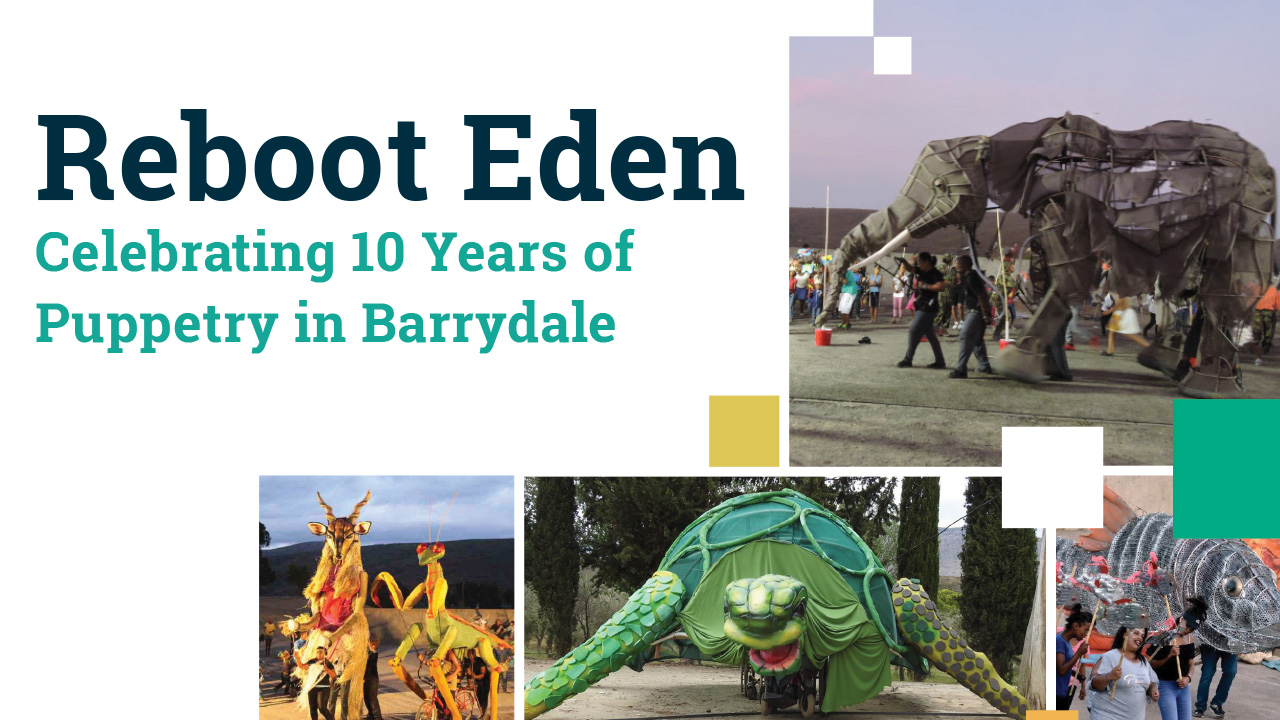 The Centre for Humanities Research at the University of the Western Cape (CHR), in partnership with Net vir Pret are celebrating 10 years of puppetry in Barrydale. Reboot Eden will be an online program of four new puppet performances that will be available online from the 16th -19th December 2020.
Featuring some of the most loved giant puppets created over the 10 years by the Handspring Trust for Puppetry Arts, CHR Artists in Residence, Ukwanda Puppet Company and Net vir Pret, a program of new puppetry performances will be streamed online on the CHR Facebook page.  The 16th December will also be the launch of the long awaited musical album Celebration: 10 years of the Barrydale Puppet Parade, in memory of parade musical co-director Gari Crawford who sadly passed away on 14th November this year.
Reboot Eden was nominated at the Humanities and Social Sciences 2022 Awards in the category of DIGITAL HUMANITIES: COMMUNITY ENGAGEMENT. The HSS Awards is an annual initiative run by the National Institute for the Humanities and Social Sciences (NIHSS). Congratulations to Aja Marneweck (CHR), CHR Artists in Residence Ukwanda, and partners Net vir Pret on this achievement. This talented team also received a nomination in 2022 for The Final Spring (Barrydale, 2019).
Reboot Eden Program:
To view this years Barrydale Parade, please select the hyperlinks in red
---
Day 1: 10 Years of Puppetry in Barrydale
Wednesday, 16th December
8am: Screening of Documentary Film, '

Kagg'agn Dreams'
(2014).
3pm:  'V

ollie die Volstruis
' from
Celebration – 10 years of the Barrydale puppet parade by The Net vir Pret Jazz band
6pm – Main Event:  'Booi's Soul Searching adventures'
Day 2: Voetpad van die Vroue
Thursday, 17th December
Day 3: Walking with Mnumzaan/Walking with Elephants 
Friday, 18th December
8 am: Screening of Documentary Film, '

Olifantland
' (2016) 
10 am: Screening of Documentary film, '

Looking for Ned
' by Professor Premesh Lalu
3 pm: '

Arise
' from
Celebration – 10 years of the Barrydale puppet parade by The Net vir Pret Jazz band
6 pm – Main Event:
'Mnumzaan'
Day 4: Protect the Redfin
Saturday, 19th December
10 am: Screening of Documentary Film, '

River and Redfin
' (2018) 
3 pm: '

River
' from
Celebration – 10 years of the Barrydale puppet parade by The Net vir Pret Jazz band
 6 pm – Main Event:
'Protect the Redfin'