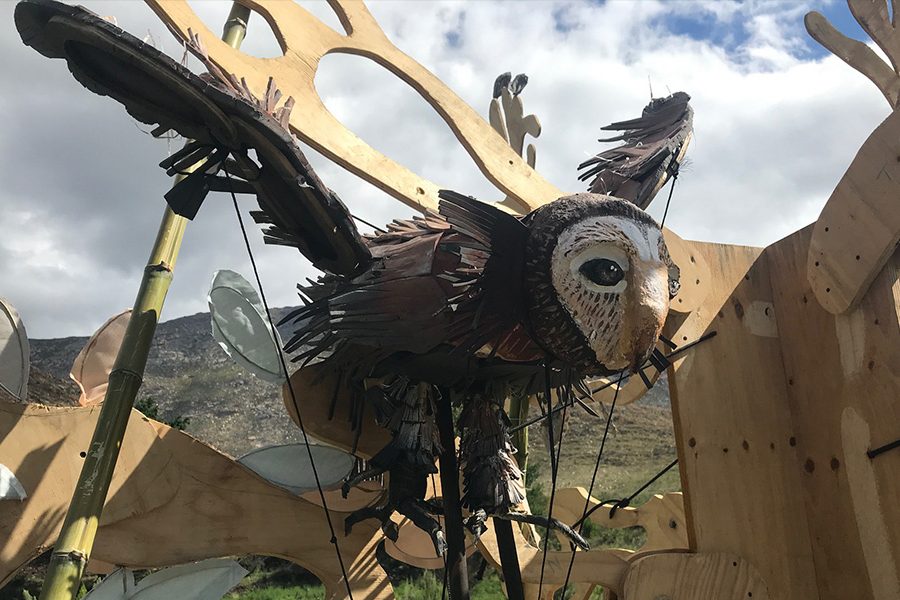 The 2021 Barrydale Puppet Parade and Performance centres on a family living in Barrydale and the connection a young woman has with an ancient indigenous tree, Old Gwarrie, as well as with the wonderful world she calls home.
Sudonia Kouter (Net vir Pret) articulates how the protagonist Candice "uses her voice to address the wrongs because no wonderful world is without those forces threatening its very existence. In the end, as with every message of hope, we all just want to have a place, preferably under the shade of a wise old soul, such as our wonderful Gwarrie tree, where we can be together, united as one."
In 2020, the CHR and partners Net vir Pret celebrated the tenth anniversary of the Barrydale Puppet Parade and Performance. The 2021 production is led by the Net vir Pret creative team, including Kouter (performance director), Angelo Endley (assistant director), Herman Witbooi and Clarisa Jonas (puppetry), and Peter Takelo (music). It is also performed by interns and young people from Net vir Pret in Barrydale. The CHR's Artists in Residence and longstanding collaborators on the Barrydale project Siphokazi Mpofu, Luyanda Nogodlwana, and Sipho Ngxola of Ukwanda Puppets and Designs Art Collective have continued their work on the parade in a mentorship and creative support capacity, aided by Aja Marneweck and Jane Taylor. As with the 2020 Reboot Eden production, Net vir Pret decided that, given public health interests, the performance for 2021 would be translated into a puppetry for film production. What A Wonderful World is about ecology, politics, and plants and heritage, inspired in part by a 2020 plant-narrative workshop facilitated by William Ellis (Anthropology, UWC).
In October, Sipho Ngxola led a film and puppetry for video workshop with the Net vir Pret directing team. Ngxola, who has been part of the CHR Communicating the Humanities documentary film course, worked alongside Nataniel Pokwas and Charl Van Zyl, Net vir Pret's resident videographers. The film will be screened on 16 December at venues in Barrydale, as well as broadcast online as part of their annual Day of Reconciliation events.
This year, the production is both a celebration and a memorial as Net vir Pret and the CHR remember our dearly missed and beloved colleague Shane A. Petzer of the Magpie Arts Collective in Barrydale. Shane was the chairman of the Net vir Pret board of directors and one of the founding creators of the parade, as well as the annual Barrydale Christmas Tree Lighting and the Barrydale Arts Meander. We also take this moment to celebrate Net vir Pret's Peter Takelo and Derek Joubert, who were awarded UWC Gold Medals this year for their exceptional leadership and extraordinary commitment to the youth of Barrydale.
The CHR warmly congratulates our partners on this wonderful acknowledgement of their lifelong work in supporting young people to thrive.

In Memory of Shane Petzer
It was with a profound sense of loss that the we learned of the death of Shane Petzer, the Social Responsibility Officer from the Magpie Art Collective.

Reboot Eden: Celebrating Ten Years of Puppetry in Barrydale
The Centre for Humanities Research at the University of the Western Cape (CHR), in partnership with Net vir Pret are celebrating 10 years of puppetry in Barrydale. Reboot Eden will be an online program of four new puppet performances that will be available online from the 16th -19th December 2020.