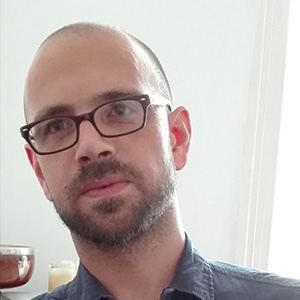 Ross Truscott
---
Senior Lecturer and Researcher
Ross Truscott's research is concerned with the relation between "institutions" and "subjectivity." He has pursued this relation through four interconnected projects on 1. festivals, 2. commissions, 3. the post office, and 4. the university. His work both critically rereads and draws upon psychoanalytic and postcolonial theory to think beyond the family as the primary institution constitutive of psychic interiority, turning to other social and cultural institutions that have formed the subject of history.   
Ross read for his doctoral degree at the University of Fort Hare (UFH) under the SARChI Chair in Social Change, graduating in 2012, also spending time at the London School of Economics as a visiting doctoral student in 2010, and at the University of Minnesota in 2012. After holding two postdoctoral fellowships at UWC – jointly with the SARChI Chair in Social Change at UFH and the Centre for Humanities Research (CHR) in 2013, and then jointly at the UWC History Department and the CHR in 2014 – he took up a postdoctoral fellowship in Interdisciplinary Feminist Studies at Duke University, before returning to the CHR in 2016 as a Next Generation Scholar. He currently holds a four-year contract at the CHR, which began in 2020, as a Senior Researcher, working primarily though not only within the research platform, Communicating the Humanities.
Ross has taught in various Humanities departments (History, Women's and Gender Studies, Psychology, Comparative Literature and Cultural Studies). His teaching has focused on race, gender, and sexuality in African history. Most recently, he taught a course on Contemporary Issues in Women's and Gender Studies (at UWC), and on Global Apartheid: A Genealogy of Biopolitical Sovereignty (at the University of Minnesota in 2019, and then at  UWC in 2020).  
Ross is a co-convenor of the longstanding Contemporary History and Humanities seminar hosted by the CHR and the History Department at UWC. In addition to co-editing a special issue of Kronos: Journal of Southern African History in 2017 (which brought together a series of lectures on the theme of "The University in Africa"), and the volume, Remains of the Social: Desiring the Postapartheid (Wits UP, 2017), he is an editor of Kronos, and serves on the editorial boards of Social Dynamics, and Psychoanalysis, Culture and Society.  He has previously served as an associate editor of Psychology in Society (PINS). 
His essays have appeared in, among other journals, Cultural Critique, Parallax, Subjectivity, Safundi, Psychoanalysis, Culture and Society, Kronos, and the Journal of Theoretical and Philosophical Psychology. 
A list of his publications can be found here: https://www.researchgate.net/profile/Ross-Truscott-2/research   
Email address: rtruscott@uwc.ac.za