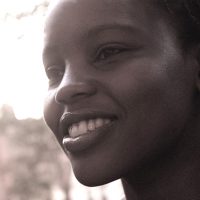 Tiisetso Dladla
---
New Archival Visions Fellow, Phd
Tiisetso Dladla is a lecturer of Immersive Media at the University of Witwatersrand Film and Television department. She is currently pursuing a PhD in Visual History at the University of The Western Cape, as a recipient of the New Archival Visions Fellowship. The title of her research is Immersive Time Capsule: Documenting and Preserving Historical Archives Through Virtual Reality and Augmented Reality Technologies.
She received a Bachelor of Arts degree in Journalism from Howard University in Washington DC and holds a Masters of Fine Arts degree in film production from New York University, Tisch School of The Arts. Tiisetso is a filmmaker and painter. She has written and directed several short films including: Unveil, Coach Fogan's Swimming Class, In Dreams, Exiled, Cold War and Nehemiah. In 2011, Tiisetso was a recipient of the Spike Lee Production Fund Award for her short film, Nehemiah. She also received the Hollywood Foreign Press Association grant for Nehemiah. Nehemiah is a family fantasy/drama story told from the perspective of an autistic teenager. Nehemiah was nominated for best short film at the Pan African Film festival in Los Angeles. World-renowned film director, Spike Lee, has mentored Tiisetso in filmmaking. She has worked with him on several of his films including: Red Hook Summer; Mike Tyson: The Undisputed Truth; Da Sweet Blood of Jesus; and The Do The Right Thing 25th Anniversary Documentary. Tiisetso Dladla Wright painted two original oil paintings that have been prominently featured in Spike Lee's independent films: Red Hook Summer and Da Sweet Blood of Jesus.

New Archival Visions: 2022 Doctoral Fellows
We are delighted to announce the appointment of four Doctoral fellows to the New Archival Visions Programme in 2022. This is part of the university's effort to revitalise its humanities archival holdings and arises from recommendations contained in a White Paper titled: Revitalising UWC Research Archives that was produced by Professor Patricia Hayes, Dr Valmont Layne and Dr Anthea Josias.