Visual History and Theory WorkshopPower Remaking selves, archives, environments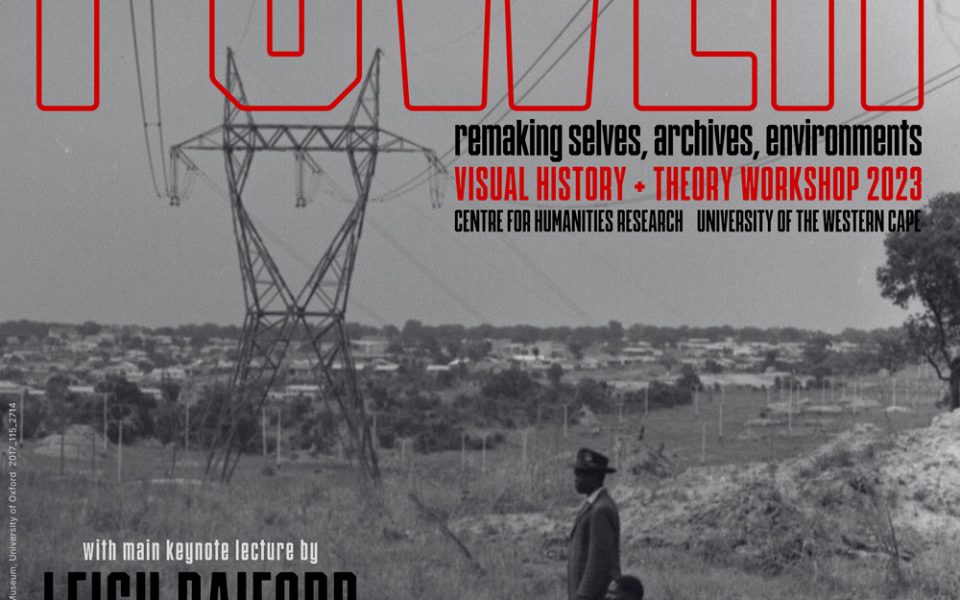 This year's NRF SARChI Chair in Visual History and Theory Workshop will take place between 27-28 July. It coalesces around the title, 'Power: Remaking selves, archives, environments', and will include a keynote by Leigh Raiford who is Professor of African American and African Diaspora Studies, University of California, Berkeley.
Keynote abstract:
This talk offers an overview of Raiford's forthcoming book When Home is a Photograph: Blackness and Belonging in the World which asks how Black people use photography to make home in the world. The book considers the everyday image making practices and habits that this group of Black Americans, each committed to improving the conditions of Black lives globally, have engaged to imagine, identify, create, fabulate, inhabit, leave, defend and, sometimes, destroy "home." The talk will focus on one figure in the study, former Black Panther Party Communications Secretary Kathleen Neal Cleaver, through close examination of a family photography album made by Cleaver of her family's time living in exile in Algeria and France, 1969-1972. Drawing on Raiford's four years of working with Cleaver leading a team organizing and cataloging her vast personal photography archive, and (since acquired by Emory University in Spring 2020), the talk also considers the intertwined labor of making, organizing and writing the archives of Black women's lives.
Bio:
Leigh Raiford (she/they) is Professor of African American and African Diaspora Studies at the University of California, Berkeley, where she teaches, researches, curates and writes about race, gender, justice and visuality. At Berkeley, Raiford is also Co-Director and co-Principal Investigator with Tianna S. Paschel of the Black Studies Collaboratory, a three year initiative to amplify the world-building work of Black Studies funded by the Andrew W. Mellon Foundation.
Raiford is the author of Imprisoned in a Luminous Glare: Photography and the African American Freedom Struggle; co-editor with Heike Raphael-Hernandez of Migrating the Black Body: Visual Culture and the African Diaspora; and co-editor with Renee Romano of The Civil Rights Movement in American Memory. She is Series Editor with Sarah Elizabeth Lewis and Deborah Willis of Vision and Justice, a new imprint of Aperture Books. Raiford's work has appeared in academic journals including Art Journal, American Quarterly, Small Axe, and NKA: Journal of Contemporary African Art; and popular venues
Including Artforum, Aperture, and Atlantic.com. Raiford has written essays about the work of a number of contemporary Black artists, including LaToya Ruby Frazier, Toyin Ojih Odutola, Lava Thomas, Mildred Howard, and Dawoud Bey. In 2019, she co-curated the group shows Plumb Line: Charles White and the Contemporary at the California African American Museum, Los Angeles (with Essence Harden) and About Things Loved: Blackness and Belonging at the Berkeley Art Museum/Pacific Film Archive.