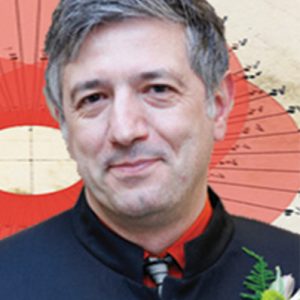 Cesare Casarino
---
Cesare Casarino is Associate Professor of Cultural Studies  and Comparative Literature at the University of Minnesota.  He is the author of Modernity at Sea: Melville, Marx, Conrad in Crisis (University of Minnesota 2002), co-author of In Praise of the Common: A Conversation on Philosophy and Politics (University of Minnesota 2008) with Antonio Negri, co-editor of Marxism Beyond Marxism (Routledge 1996) with  Saree Makdisi and Rebecca Karl, as well as co-translator with Vincenzo Binetti of Giorgio Agamben's Means without End (University of Minnesota 2000).  His essays on literature, cinema, and philosophy have appeared in boundary 2, October, Raritan, Strategies, Paragraph, Social Text, and Arizona Quarterly.

Cesare Casarino visits the CHR
The CHR is a pleased to announce Professor of Cultural Studies and Comparative Literature, Cesare Casarino, at the University of Minnesota will be joining the Centre as a visiting scholar.

Global Apartheid: A Genealogy of Biopolitical Sovereignty
A seminar course on Global Apartheid co-taught by Professor Cesare Casarino and Dr. Ross Truscott will take place in the first semester of 2020.