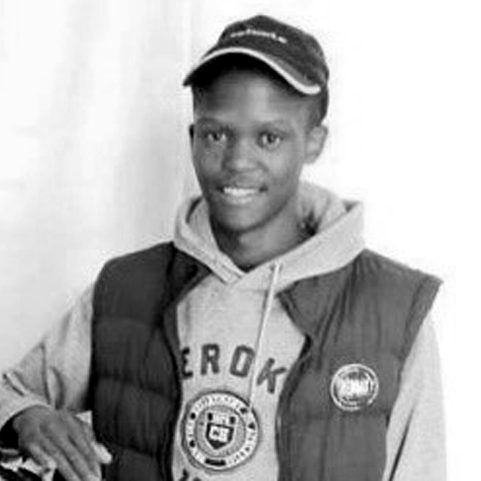 Chumisa Fihla
---
Artist in Residence, Arts
I want to study art because I am the kind of person that likes to work with my own hands and creativity, I grew up in a family that have artistic skills and are creative, but none of my siblings have ever been able to go further with their careers. I want to bring a change in my family and community. The other reason I want to study art is the fact that you can share your emotions, experiences, thoughts. I like that in the art world you get to make strong relationships and meet people whom have different ideas and are willing to share.
Art makes me strong and believe in myself. I have a passion in fine arts and that lead me to broaden my mind, finding new ways and ideas. As a resident at a place such as Masiphumelele it's hard to be known and be seen in the art world that's why I want to go further with my art career. I want to learn more art skills and be more professional. I want to make a better future for myself and be an example to my country.
What I see myself achieving is an art studio of my own whereby I can help artists in my community and other whom have the passion for it, so they could be recognized and be known. My community needs support to young artists to pursue their goals. And I want to be part of that journey.
My personal goals are to be a part of exciting projects, such as the one I have seen Handspring puppet company producing. My dream is to travel to overseas because I can interact with different kinds of cultures and forms of art making. Therefore, I see residencies as an option that can help me achieve my dream. I want to make artworks for income. I also see myself achieving awards in competitions. My ultimate goal is to have a solo exhibition at a National Gallery.

AVA podcast interview with, CHR Artist in Residence, Chumisa Fihle and Bruce Bowale
Artist in Residence, Chumisa Fihle and Bruce Bowale, recently featured on Episode One of AVA's podcast series titled 'Lounge+'.

Chumisa Fihla's inaugural exhibition at the AVA gallery
The Centre for Humanities Research is pleased to announce the opening of artist in residence in visual arts, Chumisa Fihla's inaugural exhibition "Legae/Kayalethu" at the AVA Gallery opening on the 26 November 2020.