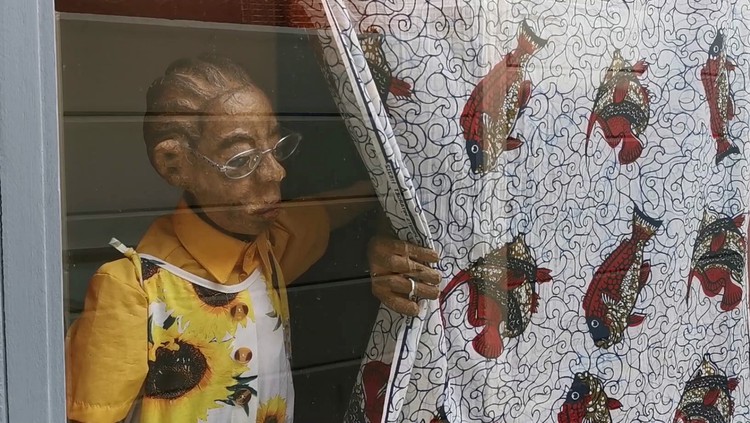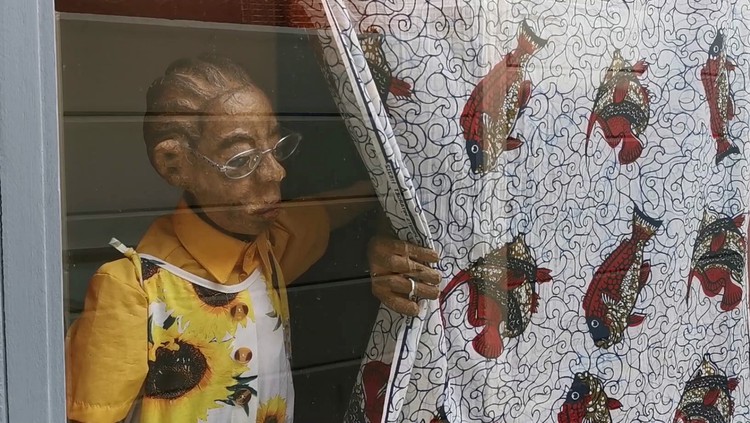 The New Normal Life is a film with puppetry about the pandemic, written, directed, performed, filmed and edited by the Ukwanda Puppetry and Design Collective
CHR Artists in Residence Luyanda Nogodlwana, Sipho Ngxola, and Siphokazi Mpofu of Ukwanda created this public-awareness film about Covid-19 during lockdown in 2020 to communicate safety protocols to young people in South Africa. Seeing the Covid-19 crisis unfold, Ukwanda wanted to get involved from their residence in Cape Town. They were particularly concerned that children would return to school without being properly informed.
What has emerged is much more than just an informational piece. It is a heartfelt story about the importance of family and community support. The film focuses on 14-year-old Nande, who is worried when her 65-year-old neighbor, Tatu Zulu, stops coming out in the morning to feed his dogs and to drink tea outside his house. The story revolves around the conversation between Nande and her mother, who explains that Tatu Zulu has tested positive for covid-19 and is in quarantine. They discuss Nande's concerns about the virus, its symptoms, and what precautions they can follow.
The life-sized wooden puppets used in the film were made and designed by Ukwanda in 2017 for their award-winning theatre production Warona. It took Ukwanda 4 months to make the whole film, including writing the script, rehearsals, filming, and editing. The dialogue is a mix of English and isiXhosa, with English subtitles. The film is performed by Siphokazi Mpofu and Luyanda Nogodlwana, and directed, edited, and filmed by Sipho Ngxola. Ukwanda also received support from puppeteer and long-time mentor, Craig Leo. Ukwanda was interviewed telephonically by GroundUp, who published an article about the film.
In 2022, The New Normal Life was nominated for a Humanities and Social Sciences (HSS) Award for DIGITAL HUMANITIES: COMMUNITY ENGAGEMENT. Ukwanda was also part of the core team of 'The Final Spring' and 'Reboot Eden' puppetry productions, which received HSS nominations that year.