Recording: Conversation on Undoing Apartheid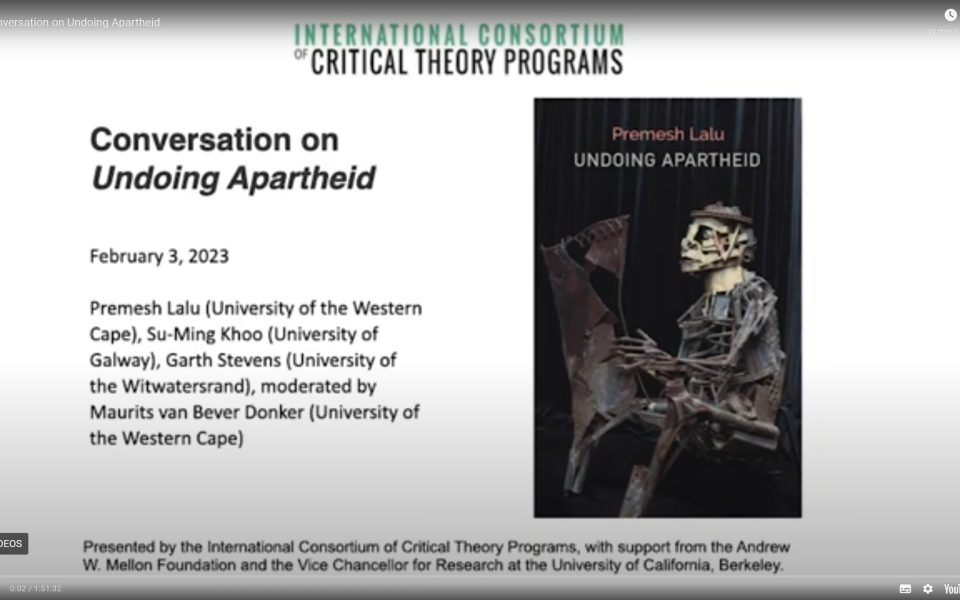 The recording for a book launch of Premesh Lalu's Undoing Apartheid is now available via the below link.
Undoing Apartheid responds to the CHR's inaugural question of the meaning of post-apartheid freedom, especially through sustained research projects on aesthetic education, the becoming technical of the human, and communicating the humanities. The book is the product of conversations with colleagues, graduate fellows, visiting scholars, and researchers at the Centre for Humanities Research (CHR) of the University of the Western Cape over more than ten years. Building on the debates and discussions of annual winter schools, local and international conferences and colloquia, and collaborations with site-specific engagements in Athlone and the rural town of Barrydale, the book responds to the inaugural intellectual inquiry of the centre aimed at overcoming the sensory ordering of apartheid while connecting the initial inquiry to the next phase of the CHR's DSI-NRF Flagship project in the Greatmore Street Arts and Humanities Hub.
Synopsis
Post-apartheid South Africa still struggles to overcome the past, not just because the material conditions of apartheid linger but because the intellectual conditions it created have not been thoroughly dismantled. The system of 'petty apartheid', which controlled the minutia of everyday life, became a means of dragooning human beings into adapting to increasingly mechanised forms of life that stifle desire and creative endeavour. As a result, apartheid is incessantly repeated in the struggle to move beyond it. In Undoing Apartheid, Premesh Lalu argues that only an aesthetic education can lead to a future beyond apartheid. To find ways to escape the vicious cycle, he traces the patterns created by three theatrical works by William Kentridge, Jane Taylor, and the Handspring Puppet Company – Faustus in Africa, Woyzeck on the Highveld, and Ubu and the Truth Commission – which coincided with the fall of the Berlin Wall and the end of apartheid. Through the analysis of these works, Lalu uncovers the roots of modern thinking about race and affirms the need to revitalise a post-apartheid reconciliation endowed with truth – if only to keep alive the rhyme of hope and history.