Kafka's Ape in A KAFKA MOMENT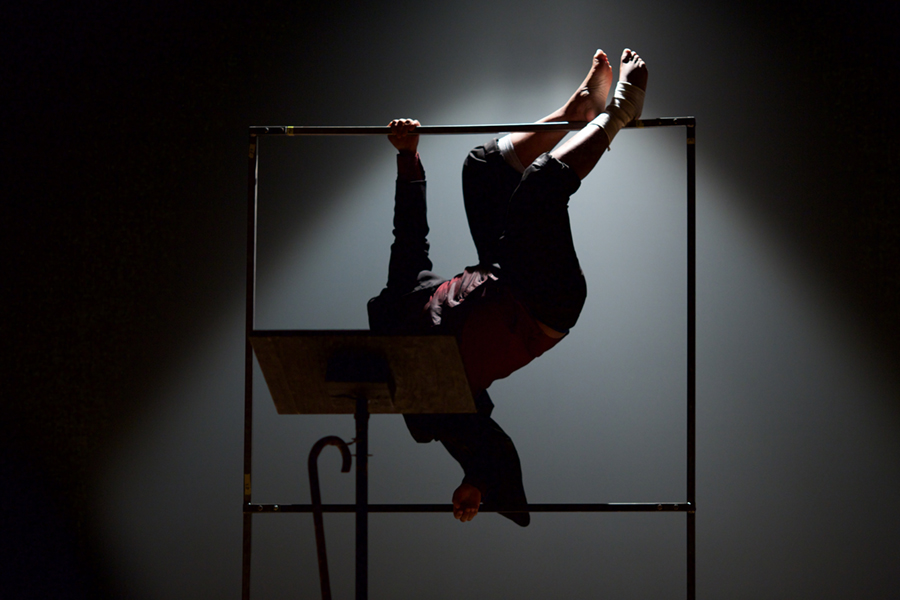 CHR Artist in Residence Tony Bonani Miyambo will be performing the award-winning Kafka's Ape on 22 and 23 April 2021.
The play, directed by Phala O. Phala, is an adaptation of Franz Kafka's "A Report to an Academy," the story of ape Red Peter who escapes his cage by learning to imitate humanity. In Kafka's Ape, set in post-apartheid South Africa, Phala and Miyambo highlight the complexities of identity in the twenty-first century and invite us to explore, through an animal's gaze, the relationship between self and other.
The performance is part of a mini season of Franz Kafka works presented by The Centre for the Less Good Idea. Miyambo has received several accolades for Kafka's Ape, including the 2017 NHISS Best Public Performance Award, the 2019 Best Satire Award at the United Solo Festival in New York, and the 2020 Graham F. Smith Peace Foundation Award at the Adelaide Fringe Festival, among others. Miyambo has toured Kafka's Ape across South Africa and abroad.
Kafka's Ape & IN CONVERSATION (22 April 2021)
19:15 Kafka's Ape, performed by Tony Bonani Miyambo
20:00 In Conversation on Franz Kafka: with Jane Taylor (CHR), Phala O. Phala, William Kentridge, and Tony Bonani Miyambo.
A KAFKA MOMENT | A Hunger Artist, A Common Confusion, & Kafka's Ape (23 April 2021)
19:15 A Hunger Artist
19:30 A Common Confusion
20:00 Kafka's Ape
A KAFKA MOMENT includes performers Ameera Patel, Clare Loveday, Bongile Gorata Lecoge-Zulu, Antony Coleman, Sue Pam-Grant, Kevin Smith, Michael Mazibuko, Dan Selsick, and Tony Bonani Miyambo.

Tony Miyambo On Tour
CHR Artist in Residence Tony Miyambo is on tour performing Kafka's Ape and The Cenotaph of Dan Wa Moriri.