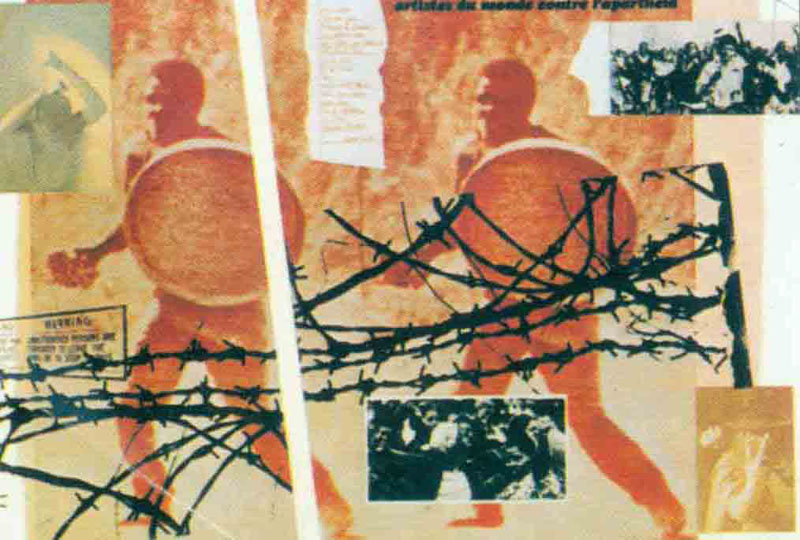 Jon Berndt Collection
An artist, designer, photographer, author and scholar, Jon Berndt (1950-2010) was born in Ladybrand in what was then the Orange Free State. He completed his schooling at Alexander High in Pietermaritzburg in 1970, after which he studied Fine Arts at the University of Natal (now University of KwaZulu-Natal). In 1975 he moved to Cape Town, where he had been accepted to do a Master's Degree in Fine Art at the Michaelis School of Fine Art, University of Cape Town (UCT). Berndt was active in student politics. Because of his involvement with the 1976 uprisings, Michaelis indicated that it was no longer prepared to supervise his thesis, which was entitled, 'Can art make propositions about the world? Marx and Wittgenstein and the art as language debate.'
Berndt became involved with the Community Arts Project (CAP), Cape Town, in 1978, when he worked alongside other artists, including Emile Maurice, Clive Helfet and Kevin Humphrey, to establish the Silkscreen Workshop. The Workshop was subsequently widely used by numerous anti-apartheid organisations to produce resistance posters, especially after the historic Botswana Arts Festival in 1982, which called upon artists to take up the concerns of communities and their organisations. Berndt was one of a small group of artists – others included Martin Stevens, Lionel Davis, Gaby Cheminais and Trish de Villiers – who assisted media activists with the visual messaging of the anti-apartheid in public life by passing on their skills in silkscreen printing as a means of mass communication. As such, he played a vital role in facilitating the South African counter-culture poster movement of the 1980s and early 1990s.
Berndt left CAP for a time when he married artist and educator, Jill Joubert. During this time, and while raising his children, he worked as a freelance designer for the International Labour Research and Information Group (ILRIG) and the South African Committee for Higher Education (SACHED).
Berndt returned to CAP in 1989 to develop and run a full-time media-training course for Media Works, an offshoot of CAP based at Community House in Salt River, Cape Town. When CAP amalgamated with Media Works to form the Arts and Media Access Centre (AMAC) in about 2000, he continued to work as a freelance poster designer for New Social Movements, ILRIG and Workers World Media Productions. He is the author of From Weapon to Ornament: The CAP Media Project Posters (1982-1994) (Art and Media Access Centre, 2007) – "an inspiration for new postapartheid media activists," as Sean Jacobs, assistant professor at Michigan University, describes it. When he passed away, Berndt was working on a second book, this time on design. At the time of writing, the CHR was involved with securing a publisher for his book.
Berndt's enduring passion was the left-wing poster as a means of mass communication. In this respect, he was studying towards a PhD in the Dept. of Film and Media Studies at UCT. His dissertation was entitled 'Posters and Publics: A comparative Investigation of Soviet TASS posters and South African struggle posters'. A seminar room in the Arts Block at UCT has been named the 'Jon Berndt Thought Space' in his honour.
Represented in the CHR's CAP Collection through a linocut, and a University of the Western Cape (UWC) graduate in adult education, Berndt left behind a collection of art works, prints, photographs and posters. This collection was donated by his widow and children to the CHR in early 2015.
Works from the Jon Berndt Collection are featured on the ASAI website here: