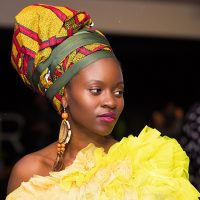 Sibongile Khumalo
---
DSI-NRF Early Career Doctoral Fellow
Sibongile Khumalo is currently pursuing her PhD at the University of the Western Cape, under the supervision of Professor Jane Taylor. Khumalo holds a Master of Arts in English from the University of the Western Cape. She has graduated with an Honours English degree and holds a  BA in Language and Communication Studies, English, and Sociology, also from the University of the Western Cape.
Khumalo's MA was an exploration of eco-critical theory in Chimamanda Ngozi Adichie's Purple Hibiscus (2003), Half of a Yellow Sun (2007) and Americanah (2013). The thesis explored how, as a collected anthology, Adichie's narratives, though not explicitly environmental, carry an ecological aesthetic which is useful for the inquiry of ecological futures in Africa. Khumalo's work was guided by the thinking of Timothy Morton in his world renowned the Ecological Thought (2010) which explored an imagination for an ecologically thinking society.
Khumalo's findings in her MA opened pathways to an exploration of post human futures by the lens of Gender and Queer theory. By Khumalo's migration to the Women and Gender Studies department for her PhD, she sets out to deepen her inquiry into posthuman futures with a close focus on the evolution of gender, sex and sexuality in the face of digital technologies.
Khumalo's particular interests include theorisations of sex, sex positive feminism, sexuality, and gender in and by technology, with a particular concern on post-human futures.  Khumalo also has a keen interest in the production of film and photography especially as it depicts the Black queer and trans woman body.