CHR Director Hands Over the Baton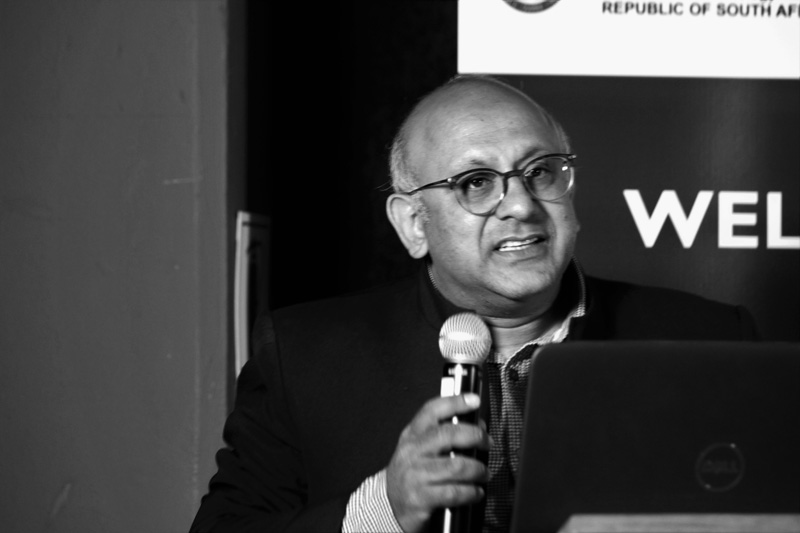 Professor Premesh Lalu

will step down from his position as director of the Centre for Humanities Research (CHR), a position held for a period of twelve years at the University of the Western Cape (UWC). He will lead a group of next generation scholars, local and international researchers in a study on race, technology, and university discourse, supported by a generous grant from the Andrew W. Mellon Foundation.
During the twelve years of Lalu's directorship, and following an initial two-year period as the principle investigator on an Andrew W. Mellon funded Programme on the Study of the Humanities in Africa at UWC, the CHR was moulded into one of the leading humanities centres both nationally and internationally. Under Lalu's leadership, the CHR has increased its staff complement from two to a total of six faculty members (including two Research Chairs), two administrators, eight next generation scholars and nine early career fellows. Thirteen CHR fellows have been appointed to academic positions at UWC during his tenure. A further sixteen fellows have taken up employment at South African universities including UCT, WITS, Stellenbosch, Free State and public institutions such as IZIKO Museums of South Africa, Robben Island Museum, the South African Historical Archive and Durban Art Gallery. Several others now occupy academic and research positions in universities and public institutions in Africa, Europe, America and Asia. Through careful academic leadership, Lalu has been instrumental in raising in excess of 200 million Rand in research grants through the CHR to support postgraduate and postdoctoral fellowships, artists in residence, scholarly collaborations. These grants were secured from the National Research Foundation, the Volkswagen Foundation, Andrew W Mellon Foundation, Ford Foundation, Department of Arts and Culture, National Institute for the Humanities and Social Sciences, the American Council for Learned Societies, Rand Merchant Bank, PPS, the Consortium for Humanities Centres and Institutes, and the Dullah Omar Foundation. In addition to this, the research leadership and public scholarship of the CHR has led to significant partnership investment from research partners like the Universities of Minnesota, Toronto, Virginia, Indiana and Northwestern University.
A total of two-hundred and thirty three graduate students and artists in residence have been supported through the CHR's fellowship programme across various academic departments in the Faculty of Arts at UWC. Lalu led a team of dedicated researchers in the writing of a winning proposal that resulted in the CHR being awarded the first and only DST-NRF national Flagship award in South Africa. During his term as director, CHR researchers published twenty-five monographs, edited scholarly volumes and special issue journals, and more than one-hundred and twenty articles in peer-reviewed academic journals and book chapters. Beyond academic publications, Lalu and colleagues in the CHR contributed to national and international debates on the future of the humanities through public opinion pieces, exhibitions and exhibition catalogues, documentary films, public dialogues and performances, including the annual Barrydale Reconciliation Day Parade in partnership with Net vir Pret, Ukwanda Puppet and Design Collective and Handspring Puppet Company. The annual winter school has drawn together an impressive array of research partners in an ongoing collaboration over a period of nine years. The winter schools consolidated partnerships with the SARChI chair in Social Change at the University of Fort Hare, the Interdisciplinary Centre for the Study of Global Change (University of Minnesota), and the Jackman Humanities Institute (University of Toronto).
Lalu's specific research interests cover questions of aesthetic education and the becoming technical of the human. Asked about highlights over the duration of his directorship, he points to the international CHCI Humanities Improvised conference, attended by more than three-hundred delegates and addressed by some of the world's leading humanities scholars and artists in 2017, the finalisation of plans for a humanities facility in Cape Town that brings together the public, scholarly and international projects of the CHR, the awarding of the 2019 Standard Bank Ovation Prize to the uKwanda Puppetry Design Collective at the Makhanda National Arts Festival, and seeing six doctoral students from his first-year History course at UWC successfully complete doctoral dissertations as CHR fellows.
Comments from International Partners and Colleagues:
---
"Premesh deserves the accolades for his hard work to revive critical humanities research in the southern part of our beloved continent. His relentless efforts to connect the CHR with other institutions in other parts of Africa led to the creation of new network among African-based scholars, while connecting them with colleagues in the global south and the global north. The rise of CHR as a flagship of the humanities, brought back memories of the earlier hubs of intellectualism such as Dar es Salaam, Khartoum, Makerere and Ibadan Universities in the 1960s and 1970s. Congratulations to Premesh as he moves on to head yet another great initiative to advance the cause of humanities in Africa."
Salah M. Hassan
Goldwin Smith Professor
Director, Institute for Comparative Modernities,
Cornell University.
---
"I am extremely grateful to have worked with Professor Premesh Lalu for the last five years, one of Africa's prominent humanities scholars. Through Premesh, I have also been acquainted with the impressive scholars of CHR who I continue to work with. I believe Premesh has a lot to do with the intellectual rigour that the CHR has managed to exhibit in its publications, conferences and in other intellectual enterprises. What is also key is Premesh's contribution to aesthetic theory. As one who is involved in the humanistic knowledge of the arts, I appreciate Premesh's continuing contribution to arts education as a field of study that is intimately connected to the study of letters. I know Premesh will continue to influence the scholarship of African humanities as he had done in the last decade and I know I will continue to work with him."
Elizabeth W. Giorgis,
Associate Professor,
College of Performing and Visual Art, Centre for African Studies,
and Director of Modern Art Museum: Gebre Kristos Desta Centre,
Addis Ababa University.
---
"Premesh Lalu is a remarkable scholar and a fine public intellectual. He has inspired projects and programs in the humanities on a global scale, always bearing in mind the complexity of the humanistic project without sacrificing the values of social activism in pursuit of justice and equality. Premesh has been my collaborator in the Mellon and Volkswagen funded project on the Global Humanities, and his ability to curate ideas and discussions is second to none."
HOMI K. BHABHA
Anne F. Rothenberg Professor of the Humanities, Department of English
Director, Mahindra Humanities Centre
Senior Advisor on the Humanities to the President and Provost
Harvard University
---
"I believe that in our contemporary world there's an urgent need for a daring generosity in our intellectual activity and commitments. Premesh Lalu embodies such audacity and such openness. It allows us to establish the most creative and unpredictable dialogues and it expands our ethical imagination towards what is yet to come. His role in Humanities has shown precisely the power of this kind of engagement. In 2017, when the CHR hosted the CHCI Annual Meeting, Premesh Lalu offered us a motto with which we all could think afresh. The motto was 'Improvising Humanities'. Yes, improvising. Improvising because the very promise of Humanities is freedom to come into being and this challenge cannot ever be met with the full force of a definitive closure. Improvising because it is in improvising and in experimenting that we're able to transcend frontiers, either imagined or real. Improvising humanities means the search for untameable humanities and, in today's world, undisciplined humanities have the potential to create a global democratic future. What could be more important?"
Catarina Antunes Gomes
Co-Coordinator of the Social Sciences and Humanities Lab,
Catholic University of Angola
---
"Premesh Lalu offers an influential voice in the field of humanities research and education in South Africa and internationally. Lalu has led the building of the University of the Western Cape Centre for Humanities Research (CHR) into a globally connected and innovative hub of humanities and arts research and graduate education through the design of research platforms, international partnerships, public humanities projects and seminars. Beyond the CHR, his ability to see and build upon intellectual connections has helped to develop both the South African and the global humanities communities. Lalu's leadership shapes an innovative form of international collaboration in the humanities driven by pressing, contemporary political and social questions. In particular, the creation of public humanities initiatives, such as the UWC Factory of the Arts, marks the kind of new thinking that promises to reshape a global humanities responsive to the challenges we face in the twenty-first century."
Karen Brown
Director, Interdisciplinary Center for the Study of Global Change
Co-chair, Master of Development Practice (MDP) Program
University of Minnesota
---
"I have had the privilege to work very closely with Prof Premesh Lalu over the last ten years while he has been Director of the CHR and then the NRF Flagship at UWC. During this time I have admired and often marvelled at his contributions, displaying outstanding leadership, unique vision, critical intellectual imagination and overwhelming dedication to this project. He has built a singular centre / flagship for the country and indeed the continent, while enabling collaborative participation at every juncture. Rather than becoming mired in notions of crisis, he has guided the humanities towards considerations of futures and offered all of us creative, communicative and innovative routes towards alternatives and possibilities for rethinking beyond apartheid and the post-apartheid."
Gary Minkley
National Research Foundation SARChI Chair in Social Change
Fort Hare University
---
"Our partnership with Premesh Lalu through the CHR and the Handspring Trust has transformed Net vir Pret beyond recognition and has led not only to the unlocking and nurturing of young talent in many different fields here in Barrydale but also to the raising of awareness in the general community of its own uniqueness and consequence. We thank you for your enthusiasm and unwavering support over so many years and wish you well for the future."
Derek Joubert
Net vir Pret
Barrydale