Africa as Concept and Method: Emancipation, Decolonization, Freedom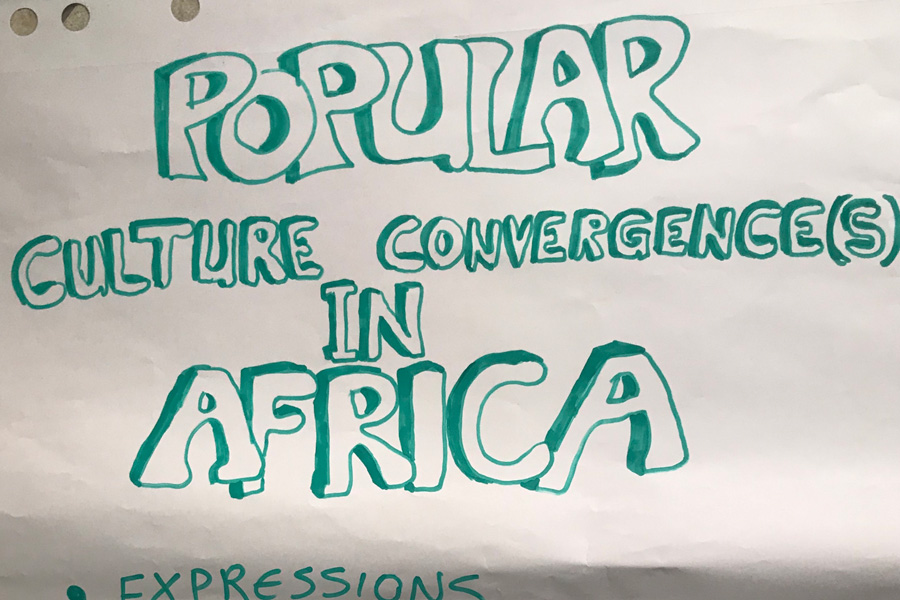 The Consortium of Humanities Centres and Institutes (CHCI) Africa Workshop 2019 was hosted in Addis Ababa, Ethiopia. The workshop, titled Africa as Concept and Method: Emancipation, Decolonization, Freedom, sought to bring together a cohort of emerging and established scholars concerned with thinking about and through Africa. The workshop, which took place from 3 to 18 January 2019, incorporated interventions lodged through various forms, drawing together participants and conveners from various disciplines, locales, and institutions. The workshop sessions spoke in varying ways to the eponymous topic and its affiliated themes of emancipation, decolonization and freedom, and also to the lived experience of early career scholars attempting to navigate the academy by including workshops on publication development, grant proposal writing and collaborative research. Early Career Fellow Valmont Layne and Next Generation Researchers Kim Gurney and Lauren Van Der Rede from the CHR attended the workshop.
The initial workshop sessions were intended to challenge received orthodoxies about the practice of humanities scholarship with the idea that, by privileging the arts as a mode of thought – as opposed to relegating it to the margins as 'entertainment' – new arguments might emerge about knowledge making. In this sense, the kinds of 'intangibles' and 'vulnerabilities' which occur at the limits scholarly discourse – the seminar, tutorial or lecture – would be admitted to the field of knowledge. It might enable new modes of inquiry and practice to emerge.
The workshop saw several such interventions. The first such intervention focussed on 'African interiority' and the scholar Dagmawi Woubshet — working at the intersections of African American, LGBTQ, and African studies — curated a viewing and discussion of two films by the filmmaker Abderrahmane Sissako – Bamako and Timbuktu.
A second intervention took participants to different sites of artistic production, including the Gebre Kristos Desta Center, the Gallery of the School of Fine Art and Design, and the Addis Ababa Museum overlooking Meskal Square. In another, the artist Julie Mehretu reflected on her work with large-scale, densely layered paintings that 'take the abstract energy, topography, and sensibility of global urban landscapes as a source of inspiration.' She reflected at length on her work's basis certain kinds of visual research, and on the role of 'intuition' as a deep form of knowledge. Her reflections took in the research process, how she works with archival materials, historical references and aesthetic techniques to transform a cultural identity into a plastic, malleable resource. The productive constraint of the material she works with was a key principle. Mehretu has worked against Cartesian forms of analysis working with layered maps in a kind of 'tectonics of memory.' The quest for ways to provide information to audiences to help read her painting, and to work against conventional approaches, what she called a non-place of the imaginary. Her sense was to link to this world, to its ways of knowing through maps or architectural renderings.
Dr. Mshaï Mwangola, a performance scholar / oraturist underscored the need to trouble understandings of knowledge, and the arts as form of knowledge. Dr Akosua Adomako Ampofo led a discussion on Creating Emancipatory Spaces in the African Academy: the Place of the Scholar-Activist. Small group discussion yielded several insights. In addition, the value and challenges of scholarly collaboration were considered in two workshops with Carli Coetzee and Professor James Ogude. They posited a number of potential outcomes, around the production of Special Issue Journals. Early Career Fellow Valmont Layne and Next Generation Researcher Kim Gurney also took part in a panel discussion reflecting on urbanism, popular cultural expression and on the deployment of sound in a South African context.
The scholars Catarina Gomez and Simon Gikandi worked with meta-questions relating to decolonisation and knowledge. For Gomez, participants gained an almost visceral sense of the daily experience of doing humanities in contemporary Angola, as it related to the state's functionalist attitude to higher education. Gomez argued that when theory travels, it ought to change, and 'we are prisoners of received theories'.
Gikandi insisted on the University as central to knowledge, in a critique of the trend towards privileging 'consultancy.' Through a reading of Fanon, he underscored the imperative to 'anchor ourselves as producers of African knowledge.' Here, Fanon's account of colonial elites demonstrates an unfinished decolonisation since decolonisation was intended to be thought as rupture, an 'unthinking' of colonial heritage. Gikandi argues that this was based on a misunderstanding in that elites as subjects, were not capable of rupture. They could not break away from what had produced them. Independence then, was a continuation of the colonial project – but without political domination. In this sense, independence was a discourse of success, not a failure. Gikandi provided an opening in his reread of Senghor and Cesaire's approach to decolonisation, arguing that they wanted not decolonisation, but its antonym. They wanted to incorporate the colonies into the metropolis, forcing France to live up to its own ideals.' Colonies would become civilising agents in the metropolis. Decolonisation is a temporal category, a 'world opening.'
One particular important formulation that emerged from the workshop was the idea that the colonial experience operates as a 'foreclosure' (like a bank taking over, forestalling certain arguments). The departing power ensures a settlement that forecloses property, such as in Kenya which, for example, is still paying for British pensions. This, is an epistemic phenomenon. It does not sanction certain subjects, or forms of dialogue or knowledge. In the Freudian and the political sense, this leads to repression such as the position in newly Independent Kenya to 'forgive and forget'.