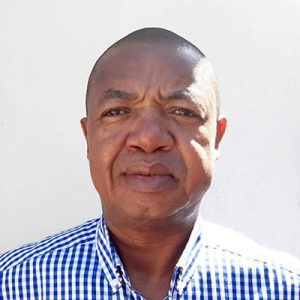 Itumeleng Wa-Lehulere
---
Itumeleng's life in the arts and political fraternities spans over thirty years. Beginning as an activist in apartheid South Africa. He's was renowned as a very influential figure, that many young men and women listened to and followed. He played a significant role in the formation of COSAS in the Western Cape, while playing a prominent role in the church, being part of the choir and playing marimba for the St Gabriel's Catholic Church.
His artistic career started as a poet, musician and dancer who later worked with Gibson Kente Productions in Johannesburg, playing lead roles along side Brenda Fassie in "Hungary Spoon".
Affectionately known as Bra E, he has conceptualized and directed a number of prominent pieces of provocative pieces for theatre, like…
"You strike the woman, You Strike the Rock"
"Down Adderly Street"
"Gap toothed Sisters
"Roxy" the musical
"Diaries of my Womanhood"
"Red Winter"
"Echoes of our Footsteps"
All of which were played out in the major theaters of South and abroad, spanning a period of over 20 years.After completing his performance Diploma under the prolific Professor Mavis Taylor, Itumeleng worked with many Directors in Theatre that include, Barney Simon, Janice Honeyman, Ester van Ryswerk, Mark Fleishman to name a few.
Itumeleng has also worked intensively with the legendary Mike van Graan at the Community Arts Project School of Popular  Theatre.
His best work appeared at the Market theatre under owners of The Handspring Puppet Companies Basil Jones and Adrian Kholer in a production entitled "Carnival of the Bear"
Itumeleng was instrumental in the forming of the Market Theatre laboratory along side Mark Fleishman under the leadership of Mannie Manim and Barney Simon.
Itumeleng has taught at the following institutions:
Alexander Arts Center(JHB)
Fuba Academy(JHB)
New world Foundation(CT)
Community Arts Project(CT)
Tutored at the University of Cape Town Drama School
Itumeleng was one of few actors to be contracted to the Performing Arts Council of the Transvaal(1990)
He has since been commissioned by
City of Cape Town(writer/director: Affirmative Action Education program)
Which was converted into a video drama also Directed by Itumeleng.
2004 Cape Town Olympic Bid Company(concept/script/director National Roadshow Tour)
Department of Transport(writer/director: Arrive Alive Road Show)
Department of Arts and Culture(writer/director Heritage Day Celebrations
Alongside Maestro Duke Ngcukana)
Itumeleng then moved on to found and Directed for twelve years the multi award winning Ikhwezi Annual Theatre Festival in Association with the Baxter Theatre Center at the University of Cape Town under the astute leadership of Mannie Manim. The Festival was chosen as the Cultural Development Project of the year(2004)
Itumeleng is also very interested and involved in writing,directing and acting in television series and movies, latest of which was conceptualizing, writing and directing the acclaimed romantic comedy Forced Loved produced by Penguin Films.
Itumeleng was the Artistic Director of the Jozi Bookfair, hosted by Khanya College at Wits University(2014-2016)
Itumeleng is an intellectual who strives to tell current and thought provoking works, that speak to the times. His approach to theatre is avoiding the over use of props to encourage the Actor to use his/her instrument(body and voice) to tell the story holistically.
" Itumeleng wa-Lehulere is an an amazing name for an amazing Talent!" Barry Ronge, after itumeleng's nomination as the best young talent in South Africa by the Sunday Time(1989).