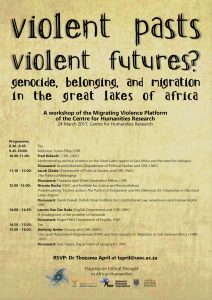 The Migrating Violence research platform of the CHR presents a day workshop titled:
Violent Pasts, Violent Futures? Genocide, Migration and Belonging in the Great Lakes of Africa 
Date: 24 March 2017
Time: 09h30 – 16h00
Venue: CHR, UWC
If you are interested in attending, please RSVP to Dr. Thozama April at tapril@uwc.ac.za. Please see poster for programme.