Reza Khota Quartet Inner Space Tour

The Inner Space Tour
Inner Space is a play on the inner world of music and the physical spaces of performance.
For the musician and listener, this is the experience of making the inner world manifest through improvisation and musical telepathy. In the city, its about reaching out to find new spaces. While many important live music spaces have closed in Cape Town, we are embarking on a project of discovering other existing or new spaces not constrained by the limits of a jazz club.
The Reza Khota Quartet launched their debut album: "Transmutation" in 2014.
---
Gwen Ansell writes in her review: "Unifying all these tracks are their melodic motifs, submerged and re-emerging alchemically altered, speaking in different voices — just like the title says. But it's much more fun than that suggests, and definitely an album of the year."
The Quartet are: Jonno Sweetman: Drums, Shane Cooper: Bass, Buddy Wells: Sax and Reza Khota: Guitar.
"Khota delivers laser-focused solos that give off searing heat." Dan Bilawsky – All About Jazz
"Khota is a soaring and stinging player." Don Albert – Artslink.co.za
"Hearing Khota searching for a segue between the rhythm and the melody, by modulating his solos into ecstatic micromodal improvisations on lengthy 10-minute plus compositions such as Eclipse, Contact and Freedom's Dance, is nothing short of sublime." Miles Keylock – Mail & Gaurdian
Reza Khota is an Artist in Residence at the Center for Humanities Research at the University of the Western Cape.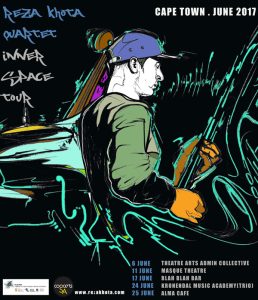 Reza Khota Quartet – Inner Space Tour (Cape Town)
6th June: Theatre Arts Admin Collective. Methodist Church Hall, Cnr Milton Road & Wesley Street, Observatory. 8pm
11th June: Masque Theatre. 37 Main Rd, Muizenberg. 18:30. Bookings: 021 788 1898
17th June: Blah Blah Bar. 84 Kloof St, Gardens. 8:30pm Bookings: +27 21 422 2762
24th June: Kronendal Academy of Music. 153 Empire Ave, Hout Bay. 8pm,
Bookings: 021 790 4457
25th June: Alma Cafe. 20 Alma Rd, Rosebank. 7:15pm, Bookings: 021 685 7377