Restitution, Technics and Disciplinary Objects in the Preservation of African Music Institution Making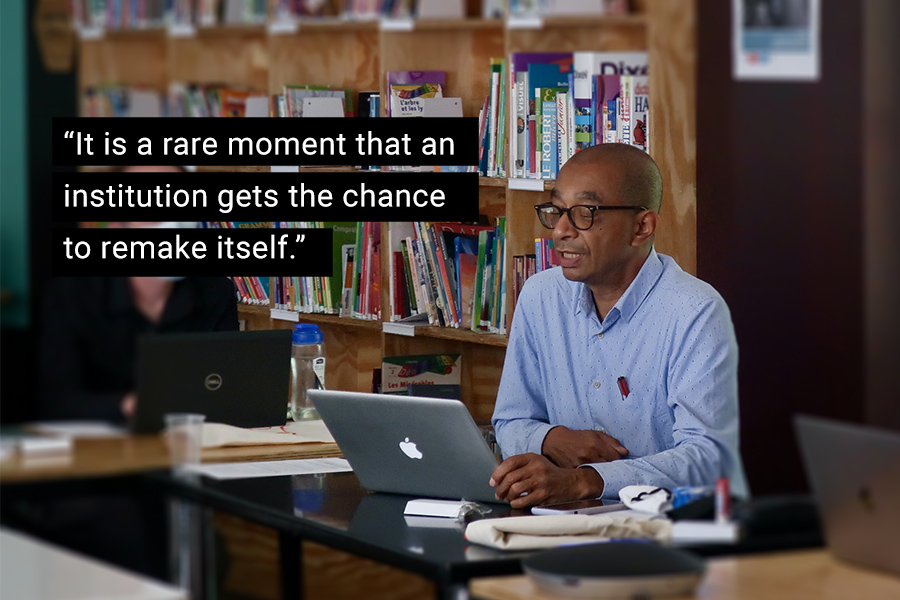 Next Generation Scholar Valmont Layne examines the challenges and possibilities of music archives in Southern Africa.
In a paper presented at the conference "Music Archive in Southern Africa: Challenges, Opportunities, Innovation," hosted by the French Institute (IFAS), Layne presented learnings from his own work with sound archives at the District Six Museum as well as his work since 2019 as part of a research team assessing and making recommendations on the revitalisation of the considerable archival holdings of the liberation movements of Southern Africa housed at UWC. This project research has included site visits, expert workshops, reviews of collections plans and policies, research in digital preservation, the fitting of a bespoke archival building, and the opening of an arts campus closer to the city in Cape Town in which resident artists and scholars will be encouraged to make and use archival resources in addition to the research community at large.
Other scholars and archivists working across the African continent shared concerns about the need for greater collegial support and cooperation in what is a small sector supporting research in music in Southern Africa.
Restitution, Technics and Disciplinary Objects in the Preservation of African Music Institution Making
Layne argued that the ground for research-based archives has shifted, and that we are no longer in the "TRC moment of truth telling" in archival recovery in South Africa. Rather it seems we are in a moment of restitution on a global scale, in which access is a critical factor. Beyond the return of artifacts, we would do well to approach restitution as the reconstruction and enabling of archival "infrastructures," as a chance to shift the disciplinary grounds around archives concerned with music research. It is a rare moment that an institution gets the chance to remake itself. The university of the Western Cape has such an opportunity as it recommits to its considerable archival holdings, and plans substantial new acquisitions of photographic collections, many of which relate to Southern Africa's documentary, cultural, and political history.
The apartheid state had envisaged UWC as a college to produce the clerical functionaries for the Coloured Affairs, its teachers, administrative officials, clerics. The arts had no part in such a vision beyond the state's imaginary for apartheid education. Rejecting this mediocre role, UWC under Jakes Gerwel emerged first as a university of the left, and later as an accredited scientific research institution.
This process continues under the present Vice-Chancellor Prof. Tyrone Pretorius, with a focus on an institutional legacy in the arts and humanities of which archival revitalisation is a key element.