New Work by Ukwanda Puppetry Collective and LoKO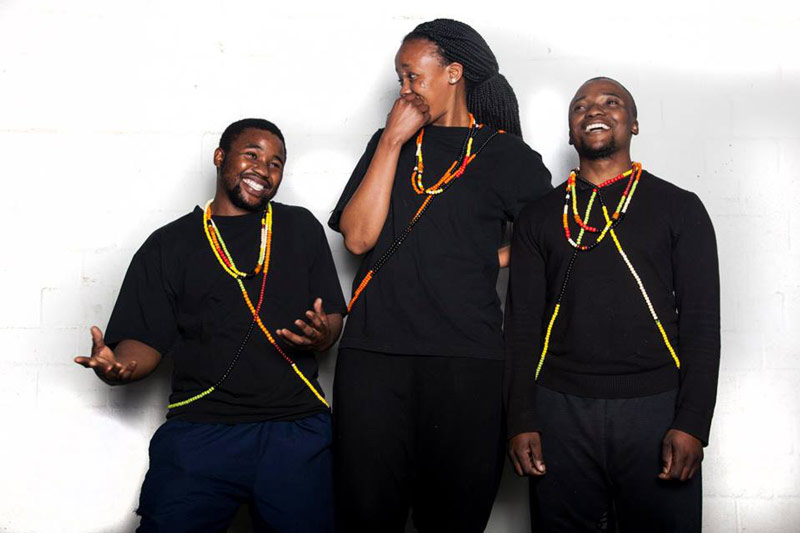 The CHR's artists in residence, the uKwanda puppetry group, is in rehearsal, working with director Thando Doni (who is currently in performance in the acclaimed play #Just Men). They are making a new puppet play, Mothers, Fathers, Sister, Brothers. The play explores the dynamics and energies of a township community grappling with the dilemma of dug use. The play is a robust and energetic, tough-minded piece that uses inter-relationship between people (and a dog) to explore questions of social justice. They play is being supported by RMB, and it will be integral to a teaching program in schools in the Western Cape.
Meanwhile, uKwanda, together with our post-doctoral fellow and puppet-maker Aja Marneweck, are working on the development of the new script for the 2018 Barrydale Festival scheduled for December 16th. This year that festival will focus on a small being (not the huge rhino or the elephant of our last two plays): the red-finned minnow, a fish endemic to the Barrydale area and extremely vulnerable and endangered. The minnow's plight becomes a medium through which to consider environmental activism, as well as the situation of the vulnerable and the indigenous.
In June the Chair of LoKO, Professor Taylor, travelled with two South African performers, Tony Miyambo and Terry Norton, to a Conference at "The Centre for Excellence for the History of the Emotions" at the University of Western Australia in Perth. There they performed Professor Taylor's play, Ne'er so Much the Ape, a work which explores primate research, artificial intelligence and race theory. Ne'er So Much the Ape was performed in Cape Town earlier this year, and which will be performed at the CENTRE FOR THE LESS GOOD IDEA, William Kentridge's arts incubator in Maboneng Johannesburg.
Professor Taylor is curating the October Season of the Centre for the Less Good Idea, working with a spectrum of artists including our CHR fellow, Ilze Wolff.