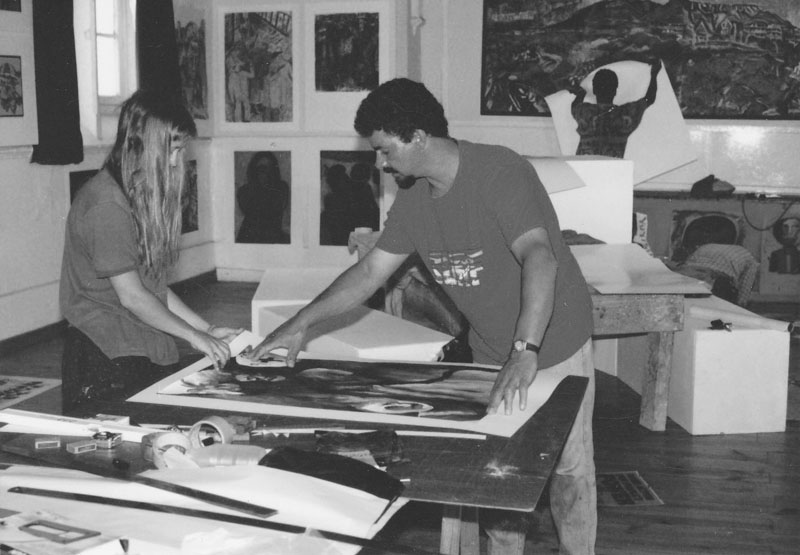 Community Arts Project Photo Collection
The Community Arts Project (CAP) Collection was acquired by the CHR at UWC in 2009 through a donation from the Arts and Media Access Centre (AMAC), which had previously operated as CAP. The collection consists of various bodies of visual work, including paintings, drawings, sculptures, posters, prints and photographs.
Most of the images in the CAP Photo Collection were taken in the 1980s and '90s, when CAP was located in Chapel Street, District Six. There are, however a few from the late 1970s, taken before the organisation moved from its premises in Mowbray to its new home in District Six. Collectively, the photos highlight the organisation at work, showcasing some of the activity at CAP, such as children's art workshops, and drawing, guitar and printmaking classes. The photos also feature artists in their studios and some of the organisation's mentors, such as Lionel Davis, Mario Sickle, Andrew Steyn and Cecil Skotnes, all of whom contributed to making CAP a prominent cultural hub and place of fertile creativity during the apartheid era. What generally emerges from looking at the photos is a picture of the spirit and ethos of CAP, its creed of non-racialism, and its quest to foster education in the arts during an era in which opportunities for training in the arts were severely restricted by apartheid dictates.
Gallery