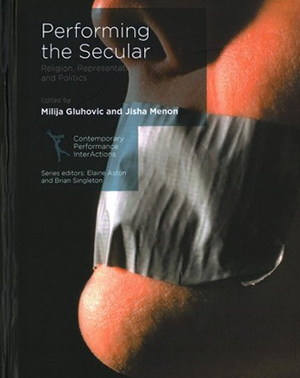 by Jane Taylor in Performing The Secular: Religion, Representation, and Politics (Eds) Milija Gluhovic and Jisha Menon (2017)
With a foreword from Rustom Bharucha, this book is a timely anthology which aims to unsettle our habituated modes of thinking about the place of the secular in cultural productions. The last decade alone has witnessed many religious protests against cultural productions, which have led, in some cases, to the closure of theatre and opera performances. Threats to artists led to the exile of Indian painter, MF Husain, and murder of Dutch film-maker Theo van Gogh, the controversy over the depiction of the Islamic prophet Muhammad in the Danish newspaper Jyllands-Posten in 2005 led to the cancellation of performances of Mozart's Idomeneo for the season.
Offering fresh and provocative readings that probe the limits and promise of secularity in relation to questions of performance, politics, and the public sphere, this book will be invaluable to scholars who seek to understand the dramatic rise of politicized theology in our new century.