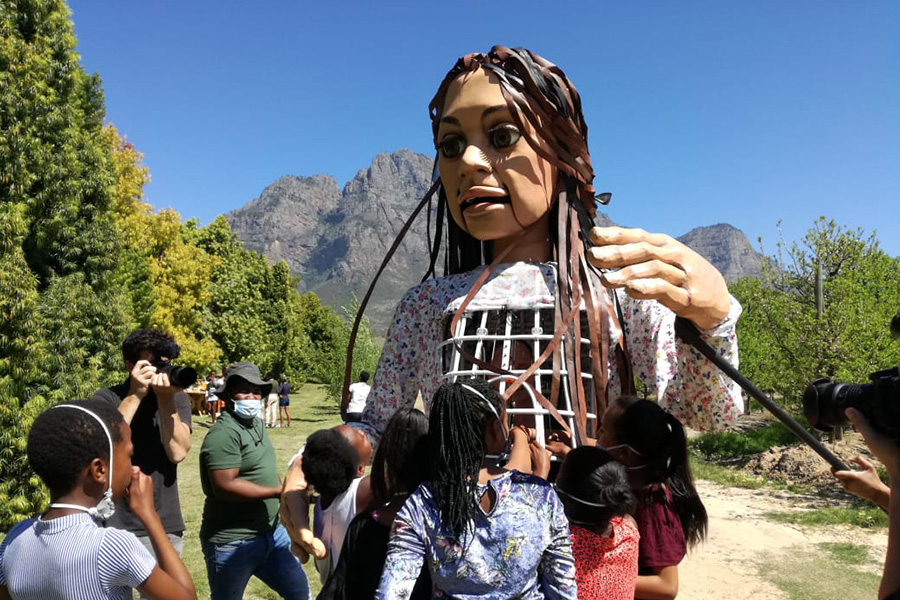 The CHR is delighted to celebrate and support the journey of young refugee and 3.5-meter puppet Little Amal as she walks 8000 km from Turkey to Manchester, UK.
Little Amal is at the heart of The Walk – a travelling festival of art and hope presented by Good Chance, Stephen Daldry, David Lan, and Tracey Seaward, and with artistic direction from Amir Nizar Zuabi. Calling attention to the urgent needs of young refugees, Little Amal is, in the words of Good Chance, "Too BIG to ignore".
Little Amal was created by Handspring Puppet Company with whom the CHR has had many creative partnerships. Some of the first steps Amal has taken in preparation for her amazing feat were through the tranquil orchards of the Boschendal Estate in Cape Town, where she was guided by puppeteers from Ukwanda Puppet and Design Company of the Centre for Humanities Research.
The Walk, set to take place from July to November 2021, promises to be a spectacular international event in the global search for hope in our troubled times.
The CHR are proud friends of Little Amal and call on the greater university community to be friends of Little Amal too.

The Walk: UWC & Boschendal Wish Little Amal Safe Travels
As South Africa celebrated Heritage Day this year, Boschendal Estate in Franschhoek provided an ideal backdrop for the first steps of Little Amal, a three-metre puppet created by the Handspring Puppet Company from South Africa to represent the plight of a refugee child.