Five CHR Fellows to Graduate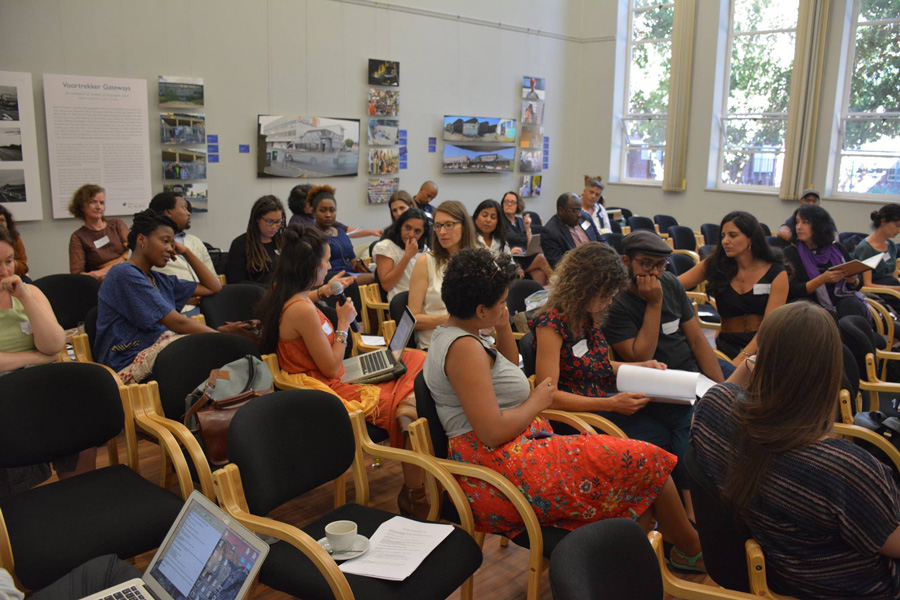 The CHR is pleased to announce that five current and former fellows are to graduate on 14 December 2018 at the University of the Western Cape.
Among these, three are doctoral candidates and two are to receive their masters degrees. All graduates have been supervised by colleagues and scholars based at the CHR.
Professor Premesh Lalu, Director of the CHR, highlighted the fact that he had encountered several of the graduates in the first year undergraduate History class at UWC, and had the pleasure of supporting them through fellowships in the Centre for Humanities Research.
The CHR is extremely proud of this achievement and grateful to the Andrew W Mellon Foundation and the National Research Foundation for the confidence they have shown in our Early Career Fellows.
Bianca Van Laun (PhD, History)
---
Supervisors: Nicky Rousseau and Premesh Lalu
Title: Administrative Death: Bureaucracy, capital punishment and governmentality in South Africa during the 1960s
With specific reference to the 1960s, this thesis considers the role of the bureaucratic mechanisms that functioned to facilitate and justify the practice of capital punishment in South Africa. It seeks specifically to understand how the apartheid state employed certain technologies and normative discourses, and a bureaucratic rationality to the killing of certain subjects, representing executions as not only necessary but even essential. This thesis is concerned to examine the bureaucratic structures and procedures through which a condemned person was systematically processed from the time of sentencing, to death in the execution chamber, and beyond, to burial in unmarked paupers graves. I show how a reading of official documents and prisoner files reveals something of the procedures, technologies and administration at work in carrying out a judicial execution in South Africa under apartheid and how these files eloquently reflect the bureaucratic mind of the apartheid state.
---
Supervisors: Maurits Van Bever Donker and Suren Pillay
Title: The Post-Genocidal Condition: Ghosts of Genocide, Genocidal Violence, and Representation
As a literary intervention, The Post-Genocidal Condition: Ghosts of Genocide, Genocidal Violence, and Representation is situated at the intersection of genocide studies, psychoanalysis, and literature so as to enable a critical engagement with the question of genocide and an attempt to think beyond its formulation as phenomenon. As the dominant framework for thinking genocide within international jurisprudence, and operating as the guiding terrain for interventions by scholars such as Mamood Mamdani, Linda Melvern, and William Schabas, the presumption that genocide may be reduced to a marked beginning and end, etched out by the limits of its bloodiness, is, I argue, incomplete and thus a misdiagnosis of the problem, to various effects. Moreover, I contend that it is this misdiagnosis that has led to what I name as the post-genocidal condition: a deferred return to the latent violences of genocide; enabled often through various mechanisms of transitional justice.
This intervention is not a denial that under the rubric of the crime of genocide, as an attempt to destroy in whole or in part what Raphael Lemkin referred to as an "enemy group", millions of people have died. Rather what I posit is that the physical violence of genocide is a false limit – that the bloodiness of genocide has been mistaken for the thing-in-itself. Thus this intervention is an attempt to offer another way of thinking the question of genocide by reading it as concept, enabling a consideration of its more latent violences, its ghosts. As such, I argue that genocide is first an attack on the minds of the persons who form the targeted people or group, through the destruction of cultural apparatuses, such as books, works of art, and the language of a people, to name but a few; and is lastly an attempt to physically exterminate a people. Thus this intervention invites a return to Lemkin's formulation of the term in Axis Rule in Occupied Europe: Laws of Occupation, Analysis of Government, Proposals for Redress (1944); that the word genocide is meant to "signify", and as such offers a reading of the question of genocide as signifier, understood, I suggest, in the Lacanian sense. Thus, I posit that genocide, as signifier, operates on both the levels of metaphor and metonym, and as such both condenses and displaces its violence(s). The metaphor for genocide as signifier is, furthermore, rather than the signifying chain as Lacan would have it, the network. As such genocide is marked as text, rather than work; its perpetrators not authors, as Lemkin and various pieces of legislation have described them, but writers; and those who engage with the question of genocide, to whatever degree, as readers rather than critics. Consequently, this intervention stages the question of the reach of impunity and complicity, beyond the limit of judicial guilt and innocence. Metonymically, the relational displacement at work within the network of genocide allows for a reading of the various constitutive examples of the violence(s) that, in combinations and as collective, produce a new signification, other than that of the definitional referent.
To do so, this dissertation engages with the ways in which select literary texts stage the question of genocide, through their representation of three spaces which have been marked as sites of genocide in Africa (itself a marker, as Fanon reminds us, of a "bloodless genocide" – 1961:314), and are as such part of the signifier's network. These spaces are read within this intervention not as case studies, but as example, by which I mean that they are neither universal, nor particular, but singular. Rwanda, which has been formally recognized as a site of genocide by the international community, is the first of these. Through readings of a number of filmic texts, short story and graphic novel, I argue that the land of a thousand hills has been written into the discourse of genocide in a manner uncanny to the ways in which Johannes Fabian argues Other civilizations have been written into the discourse of anthropology – fixed into 1994, rendering it always then and there, and Rwandan society perpetually static – a symptom of its Eurocentrism. The second of the sites, the staging of which I read through archival material, novel and poetry, is Ethiopia. Taken as an example which, having been the site of the violence of the Derg regime, enables an engagement with the relationship between genocide and terror, and perhaps terrorism, as the atrocities committed by the military junta has been named as the latter. Finally, the third example with which this intervention engages specifically, through filmic text, is the province of Darfur in Sudan and the debate around the naming of the violence which had garnered global attention in 2003, enabling a thinking through genocide as not only signifier but call. These three spaces, individually and collectively, entangled within the network of genocide, offer varying ways through which to think the post-genocidal condition, and imagine something beyond the genocidal that is different.
---
Supervisors: Patricia Hayes and Maurits Van Bever Donker
Title: Sonic Afrofuturism: Blackness, electronic music production and visions of the future
This thesis is an exploration and analysis of the ways in which we might use varying forms of Black thought, theory, and art to think Blackness anew. For this purpose I work with electronic music from Nigeria and Detroit between 1976 and 1993, as well as with works of science fiction by W.E.B. Du Bois, Samuel Delany, Ralph Ellison, and Octavia Butler. Through a conceptual framework provided by theorists such as Fred Moten and Kodwo Eshun and the philosophical work of Afrofuturists like Delany, Ellison, Butler, and Du Bois, I explore the outer limits of what is possible when doing away with a canon of philosophy that predetermines our thinking of Blackness. This exploration also takes me to the possible depths of what this disavowal of a canon might mean and how we work with sound, the aural, and the sonic in rethinking the figuring of Blackness. This thesis is also be woven together by the theory of the Black Radical Tradition – following Cedric Robinson and Fred Moten specifically. At the centre of this thesis, and radiating outwards, is the assertion that a set of texts developed for a University of the West – Occidental philosophy as I refer to it in the thesis – is wholly insufficient in attempting to become attuned to the possibilities of Blackness. The thesis, finally, is a critique of ethnomusicology and its necessity for a native object, as well as sound studies, which fails to conceptualise any semblance of Black noise.
---
Supervisor: Premesh Lalu
Title: The Sound of War: Apartheid, Audibility, and Resonance
This study approaches the field of military history with approaches to the study of sound in order to interrogate the concept of war that underpins military historiography as a disciplinary formation. It delineates the notion of the phonographic attitude with which to think about the ways in which technology, war, and the senses coalesce in broader historical writing about war, colonialism, and apartheid in South Africa. In so doing, it suggests that an attention to what it calls the warring motifs is necessary if a reorientation of a reading of war and apartheid away from a politics of deadness is to be achieved. It does so through a methodological approach that attends to various objects in South African historiography that may be attended to differently through an emphasis on the sensorial. These include the state-sponsored Walkman bomb that killed ANC lawyer Bheki Mlangeni, a record produced by artist Roger Lucey in memory of the death of activist Lungile Tabalaza, the supposed whistle or shout that led the indigenous Khoikhoi to victory over the Portuguese in 1510, a lithographic print by William Kentridge named after a radio programme for troops engaged in South Africa's border war, the bell of sunken troopship SS Mendi, and the first recording of the hymn 'Nkosi Sikelel' iAfrika' by intellectual and key figure in a history of nationalism in South Africa, Sol T Plaatje.
Damian Samuels (MA, History)
---
Supervisor: Patricia Hayes
Title: Cape-Helena: An Exploration of Nostalgia and Identity through the Cape Town – St. Helena Migration Nexus
The mid-South Atlantic Island of St. Helena is the object of an active imaginary in South Africa. A number of South Africans share a strong attachment to the Island, which they often consider the arche and mainstay of their identities. This thesis is an exploration of nostalgic identificational performance foregrounding a distant and remote place. In 'part one' of this thesis St. Helena Island is discussed as an historical place, with established meanings derived from more dominant narratives pertaining to British imperial expansion. Here the thesis offers a preliminary account of the relatively large immigration events of St. Helenians to South Africa between 1838 and 1948. On the other hand, 'part two' of this thesis is an exploration of St. Helena Island as a mythological place and ancestral homeland for many South Africans who, in the presently share an intense attachment to, and a profound nostalgic affection for, the Island. In this sense, this thesis offers a case study of how an imagined community is constructed and nurtured through sharing an object of nostalgia that is inherited from filial narratives derived from an ancestry to those Saint Helenians who immigrated to and settled in South Africa.