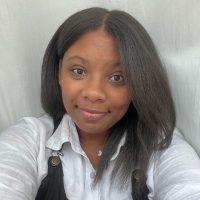 Tammy-lee Lakay
---
New Archival Visions Fellow, MA
Tammy-Lee Lakay is a New Archival Visions Fellow and masters student at the University of the Western Cape. Her research interest centres around activist histories and archival exploration often from a feminist perspective. Her honours research, "Black Women's Plight for Spatial Justice in The Informal Economy: We Work Where We Want" focused on nine women who are informal traders and actively protesting under the Bellville bus terminus. Essentially my research featured aspects of feminism, activism, and archival accord. Working from a feminist perspective, highlighting how black women are either misrepresented or unrepresented in the sphere of history and also how they are perpetually ignored in terms of public policy.
The theme of representation is central to her work as she is concerned with how black women are presented in all spheres be it public policy and everyday life and artworks. How women are represented in the Community Arts Project and what the CAP archive can tell us about the role women played in the organisation.
Her masters will be an exploration of the vast South African Committee Higher Education (SACHED) archive looking specifically at the role SACHED played in the lives of black women and their education.