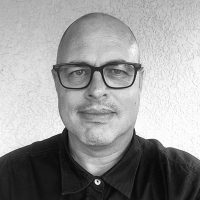 Rory Bester
---
Fellow: Research Fellow
Rory Bester is an art historian, curator and visual learning specialist. He received his PhD in art history from the University of the Witwatersrand, Johannesburg. He is formerly an associate professor of art history and deputy head of school at the Wits School of Arts, University of the Witwatersrand, Johannesburg. Bester's curatorial work includes Democracy's Images: Photography and Visual Art After Apartheid (BildMuseet, Umeå); Kwere Kwere / Journeys into Strangeness (Castle of Good Hope, Cape Town); Rise and Fall of Apartheid: Photography and the Bureaucracy of Everyday Life (with Okwui Enwezor, International Center of Photography, New York), for which the exhibition won the Lucie Award for Best Photography Exhibition and catalogue won the German Photo Book Prize; and A Short History of South African Photography (Fotografia Europea, Reggio Emilia). In addition to his curatorial work, he has been an executive producer for two ground-breaking music and television projects: The Thula Project / An Album of South African Lullabies, which was South Africa's first album of indigenous lullabies; and Right Through the Arts, a six-part documentary television series about artistic creativity and experimentation broadcast on SABC2. He has published extensively on South African photography, contributing to publications produced by, amongst others, BildMuseet (Umeå), Christie's (London), Documenta (Kassel), Fondation Louis Vuitton (Paris), Fotografia Europea (Reggio Emilia), Fotomuseum Winterthur, Iziko South African National Gallery (Cape Town), National Gallery of Victoria (Melbourne), Prince Claus Fund (Amsterdam), Studio Museum (Harlem), and White Box (New York). Bester is a Research Associate at the Archive and Public Culture Research Initiative at the University of Cape Town, and the founder of Two Crows, a creative lab for innovating visual-spatial learning solutions in secondary and tertiary education.
Description of Research:
Working Methods for Photography and Archive is a series of short working papers focusing on past, present and future methodologies for activating photography archives in public. It includes interviews with photographers, curators and researchers; position statements on photography and archive; exhibition and reading lists; and the selected re-publication of archival texts on photography. Focusing on the methodological possibilities of ideas in action, each paper is topical, provocative, reflective and visually rich in its exploration of questions, concepts and arguments related to the multiple public lives of photography and archive. These questions and concepts grapple with making and activating photographic archives; the material, ephemeral and invisible photographic archive; power, access and narrative; private and public archival lives; and research and commercial impulses in photographic archives. The edited series forms part of a growing academic focus and body of research on the ways in which photography archives matter in the present.