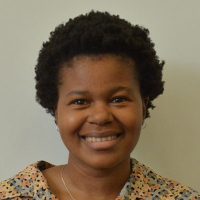 Lami Magwaza
---
Fellow: Department of Women's and Gender Studies, MA
My name is Lami Magwaza.  I am from Mpumalanga. I am currently doing my masters in the Women and Gender studies department.
My research interest is on Intimate Partner Violence(IPV) mainly after people that have been in intimate partner violence relationships leave those relationships and the journey after. The focus of my study is looking at the process of moving on after being abused by an intimate partner and finding peace and healing after the relationship/s. The question that I am frequently asked when I state what my research is with people is "Do we really heal" and this  made me really think  do we truly heal or do we find ways of managing thoughts and feelings related to being abused which is what made me even more interested in conducting this research. The reason why I want to embark on this journey is because I am very much interested in how people that were in intimate partner violence relationships find healing after those relationships if they ever do and how they move from being survivors to being thrivers in their new lives and new owned identities.
I aim at  exploring the nature of healing through people's narratives. Understanding from their own perspective what healing or moving on means to them, what their  healing needs, goals and desires are.  I hope to finding out ways of how the process after intimate partner violence is, to make people aware that they are not alone, to  explore renegotiating of self, the nature of their healing process as well as their healing goals for the future and to look at the new found self in relationship in the aftermath of IPV.