Encounters Festival: Films by UWC's CHR fellows and Department of English students

The Centre for Humanities Research at the University of the Western Cape is proud to announce the debut of two short films at the forthcoming Encounters Documentary Film Festival in Johannesburg and Cape Town. The films are products of the documentary film course convened by the CHR and the Department of English at UWC and taught by Francois Verster with the support of a generous grant from the Andrew W. Mellon Foundation. We are very proud of the achievements of Riaad and Bronwyn on these stunning achievements. A third film by CHR fellow, Damian Samuels (the Black Christ) will also be screened as part of the main event. Please do support if you are in the vicinity.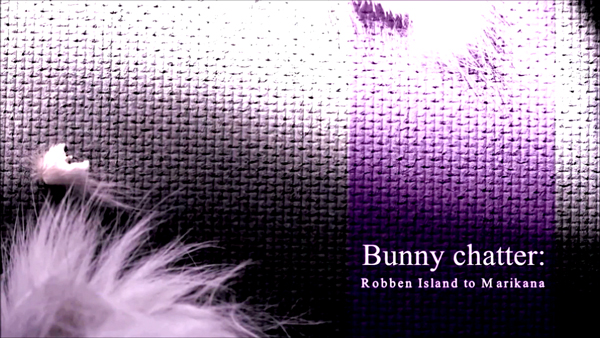 Bunny Chatter (Ri'aad Dollie, CHR)

Ri'aad Dollie is a graduate of the African Programme in Museum and Heritage Studies, a postgraduate diploma course offered by the University of the Western Cape (UWC) and Robben Island Museum (RIM). In 2014, he curated an exhibition titled "Bunny Chatter: Robben Island to Marikana" in which he explored the heritage narrative at Robben Island Museum. The exhibition showcased a pair of shoes made by a Robben Island prisoner for a fellow prisoner who suffered from arthritis. The exhibition was inspired by photographs of a rabbit culling on Robben Island in 2010 and included works of contemporary visual culture from South Africa. Ri'aad produced a short film in 2015 to archive this exhibition and to experiment with extending his curatorial practice through film. The film was made in completion of the documentary film course, "Open Form/Open Text", offered by Francois Verster on the Creative Writing Master's programme at UWC's English Department. Ri'aad is currently registered in the History Department at UWC and an Andrew W. Mellon Fellow at the Centre for Humanities Research at UWC. He is working on the Albie Sachs Mozambique Art Collection looking at art and artefact in constituting the archive and freedom in South Africa beyond Apartheid.
Screenings:
CT: Sat 4 5.30pm Q&As Labia1
Jozi: Sat 11 SA Shorts 1&2&3 11am-4pm
---

Till death do us part (Bronwyn Douman, English Department, UWC)

Bronwyn Douman has completed a Masters in Creative Writing at the University of the Western Cape. Her mini-thesis includes a collection of short stories titled, The Marginal Grey. She is a founding editorial member and former Editor of Creative Writing for the online academic journal WritingThreeSixty: The UWC Journal of Research and Creative Writing. She is a published short story writer. Her work appears online in Aerodrome, UWC CREATES This is My Land anthology and in an e-book titled, The Ghost Eater and Other Stories.
"Till Death Do Us Part" (2014) is a short film about a portrait of a marriage. It documents the interactions between estranged husband and wife, John and Elizabeth Douman, and reveals the often strained and poignant nature of their relationship.
Screenings:
CT: Fri 10 SA Shorts 3 6.30pm Q&As Labia1
Jozi: Sat 11 SA Shorts 1&2&3 11am-4pm
---

The Black Christ (Damian Samuels, CHR)

After almost a decade working in the advertising industry, Damian gave up his career in 2011, switching focus to study the Humanities and Social Sciences. He holds a BA Honours in Political Science and is currently a recipient of the Andrew Mellon master's fellowship housed at the Centre for Humanities Research, University of the Western Cape. Damian has written and produced award winning short films. The Black Christ is his debut feature length film in which he performed the roles of producer, writer and principle researcher. Currently, he is completing his MA in History and is already in the process of producing two more films (a fiction and a documentary to complement his masters thesis). Damian also lectures in the Humanities programme at the University of the Western Cape.
Screenings:
CT: Sunday 05th, 18h00, June at the Labia3 + Q&A
Jozi: Wednesday 08th, 19h00, June at the Bioscope
Film website: http://theblackchrist.co.za/
African International Film Festival http://afriff.com/afriff-2015-final-selection/