Conversations: Hilton Schilder

Conversations is a new series of public dialogues with jazz musicians and their legacies convened by the Factory of the Arts of the Centre for Humanities Research, University of the Western Cape. South Africa has a rich jazz tradition, but often these stories have gone undocumented. This series of Conversations is a way for us to engage with the art and thought of iconic legends of jazz and performance. Conversations will consist of live interviews with each musician, interspersed with performance and improvisation, in front of an audience.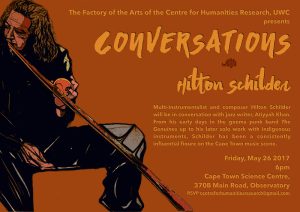 For the first event in the Conversations series we host multi-instrumentalist  and composer Hilton Schilder. From his early days in the goema punk band The Genuines up to his later solo work with indigenous instruments, Schilder has been a consistently influential figure on the Cape Town music scene. Schilder will be in conversation with jazz writer, Atiyyah Khan.
Date: Friday, May 26
Time: 6pm
Venue: Cape Town Science Centre, 370B Main Road, Observatory
Please RSVP to centreforhumanitiesresearch@gmail.com