An exhibition bringing into memory the performances of an Eastern Cape Choir touring the UK and America in the late 19th Century.
  Presented by Tshisa Boys Productions composers Philip Miller and Thuthuka Sibisi in partnership with Autograph ABP, curator Renée Mussai 
An exhibition of photographic portraits accompanied, by a multi-channel music recording.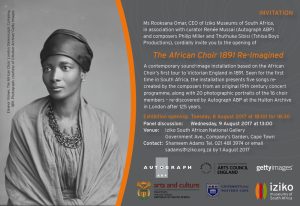 IZIKO South African National Gallery
Dates: 9 August – 13 November 2017
Panel Discussion with presentations by the creators of the exhibition
Wednesday 9 August (Women's Day) at 1pm
and
A site-specific digital projection featuring image, text and sound. The CHR's contribution to the arts and culture of the city, in partnership with the Cape Town City Council.
Running daily from 8 August until 18 August 2017 between 8am and 5pm
Cape Town Civic Centre Main Concourse
Composers' introduction to the work at the projection site on Thursday 10 August between 5 and 6.30pm
This installation premieres in Cape Town at two locations, before travelling to Johannesburg to the Apartheid Museum and the FADA Gallery, where it will be hosted by the Visual Identities in Art and Design Research Centre (VIAD), University of Johannesburg.
Background Information to the African Choir 1891 Re-imagined
The installation is based on the African Choir's first tour to Victorian England in 1891. It comprises five songs re-created by the composers from an original nineteenth century concert programme along with twenty photographic portraits of the original members of the Choir re-discovered in London at the Hulton Archive after 125 years.
The original fourteen-member African Choir, drawn from mission stations and church choirs in the Eastern Cape, toured England and the USA. Choir members such as Charlotte Maxeke (née Manye), her sister Katie Makanya and Paul Xiniwe later became leading social activists and reformers in South Africa.  They performed to great acclaim to large audiences in England, and before Queen Victoria. Their repertoire was divided into two halves: one comprised Christian hymns sung in English together with popular operatic arias and choruses; the other consisted of traditional African hymns, and some of the first originally composed hymns by South African composers: John Bokwe and the Rev. Tiyo Soga.
Together they form an artistic representation that humanises and gives voice to a part of history long unknown by contemporary audiences and which has only been documented through written diaries, academic papers and archival photographs.
The African Choir 1891 Re-imagined connects the composers, Miller and Sibisi with the curatorial research led by Renée Mussai as part of Autograph ABP's on-going Black Chronicles/The Missing Chapter archive research programme.
The Sound: The choir's performances on tour were never recorded, although one of the concert programmes has survived.  This has given freedom for the composers to re-imagine the repertoire. Working with fourteen young singers in a series of improvised and collaborative workshops in Cape Town in 2015, they recreated the original repertoire.
The Photographs: The visual component comprises twenty large-scale framed photographic portraits of the original members of The African Choir, enlarged as modern silver gelatin prints from 19th century glass plates. The glass plates, by the London Stereoscopic Company, were recently re-discovered by Autograph ABP at the Hulton Archive (a division of Getty Images) after 125 years and first exhibited to critical acclaim in 2014.
The Installation: Curated by Renée Mussai of Autograph ABP, this multi-media installation consists of the 20 large-scale portraits surrounded by a 30-minute immersive multi-channelled sound recording of a contemporary choir in the gallery space. The photographs are displayed in one discrete gallery room with its walls painted black, creating a powerful and intimate installation, echoing the 2016 London premiere, and associated Black Chronicles programmes presented between 2014 – 2016 in different iterations and venues.
Presented in partnership with Autograph ABP and Tshisa Boys Productions, curated by Renée Mussai.
Autograph partnered by Arts Council England, and Getty Images/Hulton Archive
Hosted by IZIKO South African National Gallery, Centre for Humanities Research at the UWC, the Apartheid Museum, Johannesburg and VIAD, University of Johannesburg.
Sponsored by the South African Department of Arts and Culture