A Celebration of Puppetry at the Boschendal Plum Festival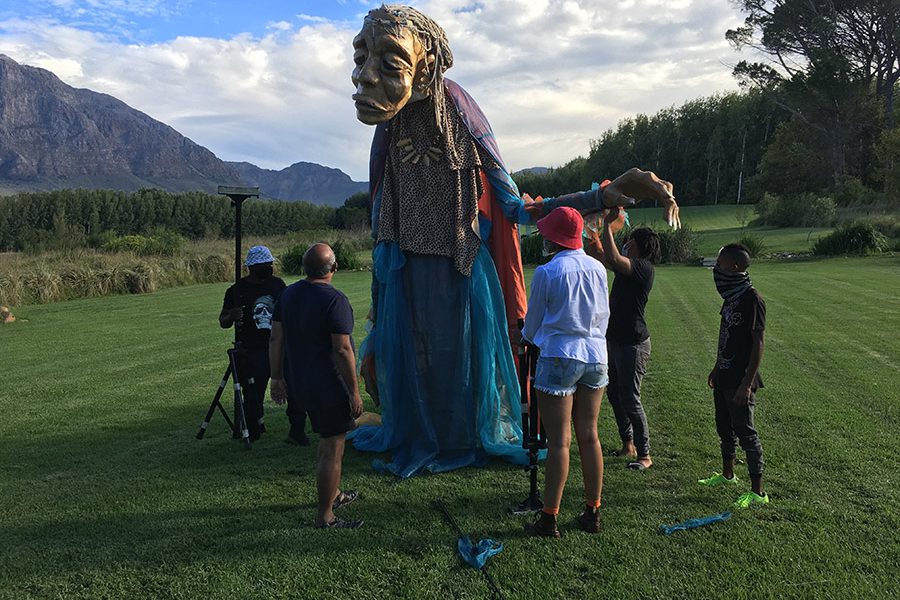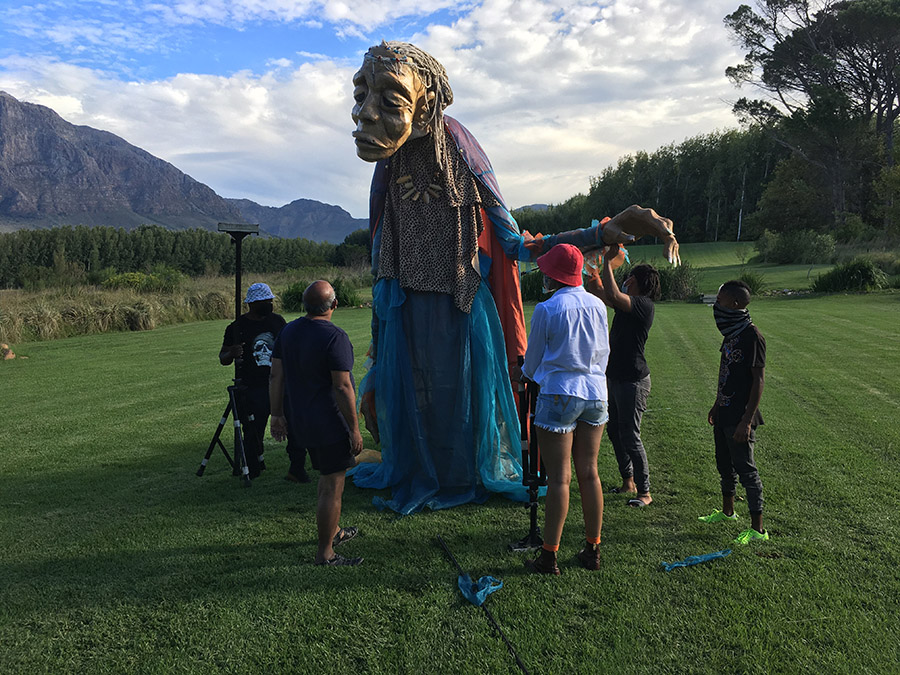 Life-sized elephant puppet Mnumzane strolled across the Boschendal Estate on Sunday 14 March 2021, accompanied by little elephant Alfie, their path criss-crossed by the boisterous Dassie puppet.
Following closely behind, the large Eland puppet kept a regal gait. Seemingly at home in this unfamiliar space, the procession passed a mesmerised crowd, heading to the Boschendal Manor House, where a hungry Mnumzane heaved over a plum tree as the mischievous Dassie danced about Alfie. 
In celebration of their annual plum harvest festival, the Boschendal Estate had opened up its beautiful grounds to a weekend celebration of the arts of puppetry, with events performed and hosted by the Ukwanda Puppet and Design Company (Siphokazi Mphofu, Sipho Ngxola, Luyanda Nogodlwana) of the Centre for Humanities Research at UWC and the CHR's Aja Marneweck, in association with partners Net vir Pret of Barrydale. The performance was directed by Sipho Ngxola and Angelo Endley and performed by puppeteers from Ukwanda and Net vir Pret.  
The giant puppets are well travelled, arriving at Boschendal ultimately via the Klein Karoo, where they were made for the annual Barrydale Giant Puppet Parade. The elephants are the creation of Adrian Kohler of the Handspring Puppet Company and were originally made for the 2016 Barrydale parade and performance Olifantland. The Barrydale initiative represents a decade-long commitment of the CHR to the public arts. Ukwanda's involvement in the plum harvest festival now marks a new engagement in the CHR's arts education initiatives. 
Mnumzane and company were accompanied by children holding aloft elephant puppets created during a puppet-making workshop at Boschendal presented by puppet designers Herman Witbooi and Clarisa Jonas of Net vir Pret, who were assisted by Boschendal's Nosipiwo Magqira, Awodwa Confidence Tobo, Unathi Maseko, and Luvuyo Tshazibane. Over two days, the team guided 13 children between ages 10 and 13 (whose parents are all Boschendal employees) into making their own elephant puppets from wire, cardboard, and recycled material.  
The Sunday performance ended as the puppets guided the crowd to a hall showcasing puppets by Ukwanda Puppet and Design Company of the Centre for Humanities Research. The entrance alone, flanked by schoolgirl Warona and a leopard poised to leap, signaled the versatility of Ukwanda's artistry on display.
The Centre for Humanities Research would like to thank the team at Boschendal for their dedicated support over the weekend.