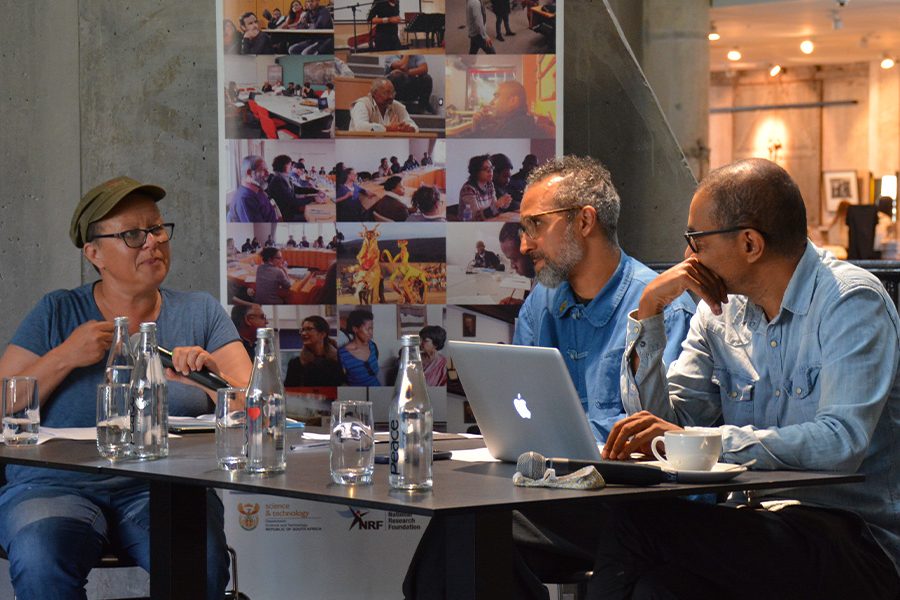 Following on from the first public lecture of 2022 by Jane Ohlmeyer, the CHR welcomed Fellows to the new academic year.
CHR Fellows gathered both online and in person at Zeitz MOCAA in Cape Town. The event began with a warm welcome by CHR Director Heidi Grunebaum, who marked how Ohlmeyer's lecture has reignited the joy and intellectual energy of being able to gather in person once again. Ohlmeyer's visit, Grunebaum observed, was a reminder of how important the work of thinking, reading, and sharing ideas among interlocutors at the CHR, at UWC, and with international and national partners is to the work of the Humanities in South Africa and globally.
After Grunebaum's introduction, CHR Staff members Maurits van Bever Donker, Patricia Hayes, Lwando Scott, Valmont Layne, and Aja Marneweck spoke about the centre's research platforms and about exciting new initiatives beginning this year. Gathering at Zeitz MOCAA was particularly significant as UWC and Zeitz launch a Pan-African Museum programme. The project marks a great commitment to expanding the relationship between institutions of public scholarship and the work of art and humanities scholarship. This new partnership will furthermore expand UWC's project for reviving its archival resources. Valmont Layne spoke to this as one of the convenors of the Archives Project. 
The Fellowship programme remains at the heart of the CHR's endeavours, and much of the welcome was devoted to presentations by CHR Doctoral Fellows. The CHR in 2022 eagerly anticipates the opening of UWC's Greatmore Arts and Humanities Research Hub in Woodstock, Cape Town. Greatmore will provide an intellectual home for kinetic, cinematic, and sonic arts.