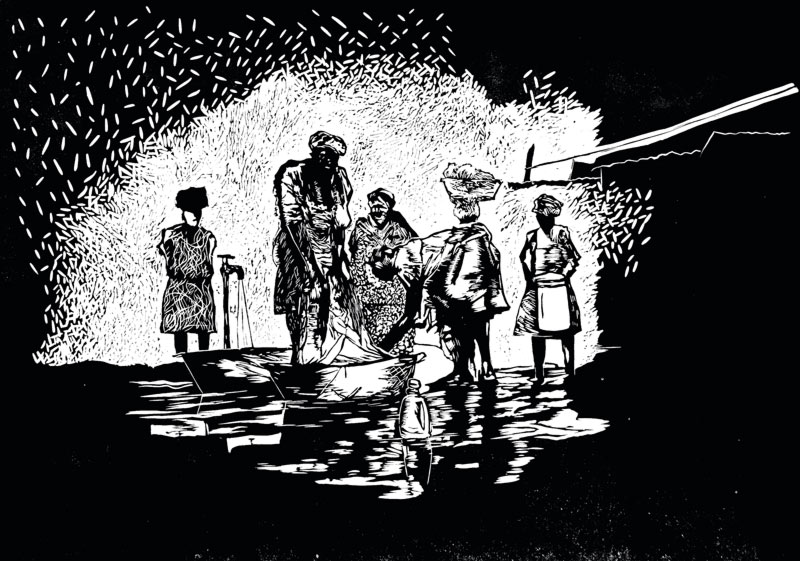 Curated by Emile Maurice on behalf of the CHR, 'Uncontained: Opening the Community Arts Project Archive' was an exhibition of prints selected from the CAP Collection, which represents a world of creativity far removed from mainstream culture. Consisting of an estimated 3,500 works by various artists, some of whom are unknown by name, it is a particularly important collection because it contributes to understanding the cultural, social and political consciousness of the Western Cape, and the heritage of the region.
CAP is well-known for its resistance posters, particularly those produced in the 1980s and early 1990s by various organisations linked to the liberation movement. These posters form a core component of the CAP collection. The collection, however, also consists of other bodies of visual work, including prints, paintings, drawings, sculptures and photographs.
The exhibition, 'Uncontained: Opening the Community Arts Project Archive', introduced the linocuts from the collection, a medium intimately associated with both the now defunct community arts project movement and the history of modern black art practice in South Africa. The title of the exhibition literally referred to the unpacking of the works from boxes, and to the opening to the public of a collection of artworks that had largely lain dormant in the storerooms of CAP and its offshoot, the Arts and Media Access Centre (AMAC). It also referred to the re-activation of the CAP Collection from its neglect by mainstream cultural history. Most of the prints on exhibition were from the turbulent 1980s, the decade marked in history as the final push against apartheid in South Africa. Overall, 'Uncontained' offered a complex narrative about human experience, imagination, and social, personal and political relations in the world of apartheid and its aftermath.