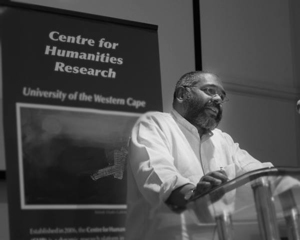 David Scott
---
Professor
David Scott is a Professor of Anthropology at Columbia University in New York City. He is the author of Conscripts of Modernity: The Tragedy of Colonial Enlightenment (2004); Refashioning Futures: Criticism After Postcoloniality (1999) and Formations of Ritual: Colonial and Anthropological Discourses on the Sinhala Yaktovil (1994). He is also the editor of the journal, Small Axe. During his time at UWC, Professor Scott presented a series of lectures at the CHR and District Six Museum, Cape Town, in November / December 2013.
Illumination in Dark Times: David Scott on Stuart Hall
Professor David Scott is currently Extraordinary Professor in the CHR from 2019-2021.
Marxism, Radical Traditions and the South: Reflections on "Stuart Hall's Voice"
The Other Universals consortium of the CHR invites you to a panel